Two Souls Indivisible (Paperback)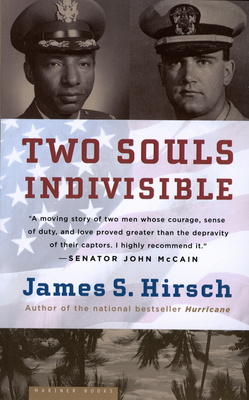 $17.99

In stock with our warehouse--usually ships within 1-7 days. May or may not be in stock at Room.
Description
---
How two Vietnam POWs, one white and one black, formed an unexpected friendship that saved them both: "A moving story."—John McCain

Fred Cherry was one of the few black pilots taken prisoner by the Vietnamese, tortured and intimidated by captors who tried and failed to get him to sign antiwar statements.

Porter Halyburton was a white southern navy flier who the Vietnamese threw into a cell with Cherry at the famous Hanoi Hilton, hoping that close quarters would inspire racial tensions to boil over. Instead, they fostered an intense connection that would help both men survive the war—and continue for the rest of their lives.

An unforgettable story of courage and friendship, Two Souls Indivisible is a compelling reminder of what can be achieved, in the face of incredible odds, when we put our differences aside.

"A riveting tale . . . Two Souls Indivisible joins the small list of essential tomes on the war, race, and to an even larger degree, books that describe the true meaning of heroism."—Seattle Times

"A moving story of two men whose courage, sense of duty, and love proved greater than the depravity of their captors."—Sen. John McCain
About the Author
---
JAMES S. HIRSCH is a former reporter for The New York Times and The Wall Street Journal, and he is author of ten books, including biographies of Willie Mays and Rubin "Hurricane" Carter.
 
Praise For…
---
"A moving story of two men whose courage, sense of duty and love proved greater than the depravity of their captors. I highly recommend it." --John McCain, US Senator and author of FAITH OF MY FATHERS

"This is a shattering account of the long, horrific ordeal of two very brave POWs. Beyond that, it is a genuinely inspiring testament to our shared human capacity to find friendship and love and forgiveness and understanding and even hope in the very furnaces of hell." -- Tim O'Brien, author of THE THINGS THEY CARRIED and JULY, JULY —