The Invisible World: A Novel (Paperback)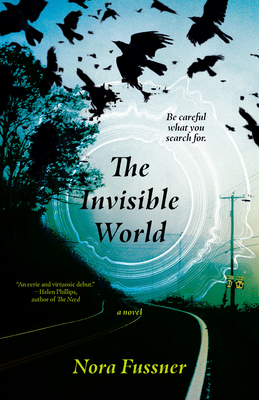 $17.00

In stock with our warehouse--usually ships within 1-7 days. May or may not be in stock at Room.
Description
---
"An eerie and virtuosic debut" (Helen Phillips, author of The Need) about a paranormal investigations TV show that loses control of its subject as they investigate a haunted house
 
Eve is a frustrated young artist and the owner of what she believes is a haunted house. Sandra is an overworked producer at Searching for . . . the Invisible World, a paranormal investigations show perpetually on the brink of cancelation.
 
When the show descends upon Eve's home, they're intent on creating just another staged spectacle. But, unexpectedly, the crew encounters some very real activity—shelves collapse, electronics go haywire, a cameraman disappears in the dead of night. Meanwhile, the show's teenage ghost hunter Caitlin is caught up in the unexplained events, convinced she's glimpsing the "other side" and desperate to make contact—even if it means putting the investigation, and herself, in jeopardy.  

As the terror mounts, it's up to the show's harried, skeptical producer, Sandra, to create order from the madness—or will the madness take her, too?
About the Author
---
Nora Fussner has a BA from Sarah Lawrence College and an MFA from CUNY Brooklyn College. Her work has appeared in Longleaf Review, Brooklyn Review, Electric Literature, and elsewhere. She lives in Pittsburgh with her husband and teaches at the University of Pittsburgh.
Praise For…
---
"A thought-provoking debut novel. . . . Readers are more likely to be kept up at night because they can't put the story down than because of any truly terrifying scares. More than anything, The Invisible World invites readers to consider a more human proposition: What happens when a woman is dismissed — and what power may be unleashed when she is finally believed?" 
—The New York Times Book Review

"Captivating and atmospheric. . . . The Invisible World offers a refreshing take on horror, inviting readers to question the boundaries of reality and the human psyche. If you relish the enigmatic allure of Twin Peaks and crave a spine-tingling experience, Nora Fussner's novel is a must-read, showcasing her mastery of evocative storytelling in the realm of the supernatural." 
—Maudlin House

"Akin to Jac Jemc's The Grip of It but unlike any ghost-hunting novels before it, The Invisible World is a masterpiece of innovative storytelling and psychological horror."
—Library Journal (starred review)

"A unique and outstanding novel."
—Booklist

"Fussner's debut combines quotidian interpersonal dilemmas with an edge of the uncanny. . . . Ideal for nonhorror fans who still want some spooky season reading." 
—Publishers Weekly

"Uncanny, moving, and gripping, The Invisible World has all the pleasures of a suspenseful thriller and all the art of a novel that asks: who has the ability to see beyond the everyday, and who has the privilege of ignoring those dimensions? It is at once a loving warm story about sensitive oddballs and a critique of the ways our complex human lives get collapsed in the name of legibility and, sometimes, entertainment. If UNReal and Twin Peaks had a baby, this novel would be it! I couldn't put it down."
—CJ Hauser, author of The Crane Wife

"In The Invisible World, the fake reality of reality TV bumps up against other realities and other realms. The book's characters teeter on a tightrope between disbelief and belief, between disconnection and connection. Nora Fussner delivers an innovative structure and a riveting read. Part ghost story, part love story, part exploration of a woman's relationship to the powerful force of her thwarted creativity, The Invisible World is an eerie and virtuosic debut."
—Helen Phillips, author of The Need
 
"The Invisible World takes us on a thrilling, unexpected journey into the lives of three very different women—a cynical producer of a reality TV show, a frustrated artist, and a passionate, teenage ghost hunter—and, as the three are forced together to investigate the inexplicable events haunting a house, reveals their surprising connections. The novel deftly moves between the everyday and the supernatural—even mythological—and compellingly questions assumed lines between physical, psychological, and spiritual realms. While our main characters are tasked with probing the nature of external forces plaguing our physical world, we soon understand that their job is much deeper and more complex than that. The Invisible World is a soulful excavation of each of these three women's internal worlds—their desires, blocks, and, most rivetingly, their entangled, unlocked potential."
—Kimiko Guthrie, Author of Block Seventeen
 
"Whatever you do, do not read this novel alone, at night, in an old house that creaks at unexpected intervals—because you will be terrified. Nora Fussner is a maestro of suspense and a herald of the paranormal. The Invisible World takes readers on a journey into reality television, American culture, as well as the most intimate corners of her character's lives, reminding us just how much we might discover if we peer beyond the veil." 
—Allegra Hyde, author of The Last Catastrophe
 
"Like Shirley Jackson's The Haunting of Hill House, Nora Fussner's The Invisible World follows an investigation of the paranormal as it slips wildly from the investigators' control—into territory that terrified and thrilled me. Hauntings, in this acutely observed novel, are frightening because they're so personal, because they entwine so deeply with our innermost selves. I will be haunted, in the best way, by Fussner's ghosts for a long time to come."
—Clare Beams, author of The Illness Lesson and We Show What We Have Learned