All This Could Be Different: A Novel (Hardcover)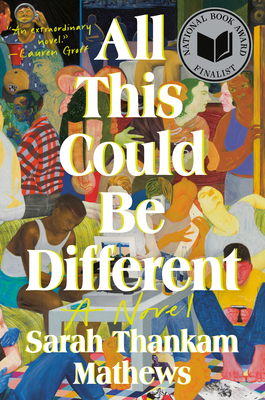 $27.00

Coming Soon - Available for Pre-Order Now
Staff Reviews
---
I loved this book featuring a first generation/immigrant queer protagonist who is as imperfect, perfectionistic, worried, aimless as so many other millennials I know / love / am. I rooted so hard for Sneha and she's so relatable that I ended up rooting for myself, too. Where I found empathy for her, I found empathy for myself.
Mathews is an inarguably *great* writer. In an almost 400 page book, there were only 1 or 2 times where I lifted an eyebrow at a sentence choice -- and there were MANY times I gasped, paused, re-read, underlined wildly at parts that moved me deeply. I would read her next book without reading the synopsis (just, please, make it queer!!!).
I loved Tig, the best friend. I loved how messed up, petty, imperfect everyone was. How hard everyone was trying to do well and be well and to be good to one another. This book made me realize trying, failing, and continuing to try, despite your shame and depression and exhaustion, is more valuable than perfection.
A deliberate, patient, hearty, relatable, queer immigrant Midwestern schlep through the protagonist's 20's -- the brokest, hardest, years that force us to become. I think, and hope, this slice of life book could go very, very far. I'm so glad I stumbled into it.
— Fawzy
Description
---
"An extraordinary novel, spiny and delicate, scathingly funny and wildly moving." —Lauren Groff, author of Matrix

"Sarah Thankam Mathews' prose is undeniable." —Raven Leilani, author of Luster

From a brilliant new voice comes an electrifying novel of a young immigrant building a life for herself—a warm, dazzling, and profound saga of queer love, friendship, work, and precarity in twenty-first century America

Graduating into the long maw of an American recession, Sneha is one of the fortunate ones. She's moved to Milwaukee for an entry-level corporate job that, grueling as it may be, is the key that unlocks every door: she can pick up the tab at dinner with her new friend Tig, get her college buddy Thom hired alongside her, and send money to her parents back in India. She begins dating women—soon developing a burning crush on Marina, a beguiling and beautiful dancer who always seems just out of reach.

But before long, trouble arrives. Painful secrets rear their heads; jobs go off the rails; evictions loom. Sneha struggles to be truly close and open with anybody, even as her friendships deepen, even as she throws herself headlong into a dizzying romance with Marina. It's then that Tig begins to draw up a radical solution to their problems, hoping to save them all.

A beautiful and capacious novel rendered in singular, unforgettable prose, All This Could Be Different is a wise, tender, and riveting group portrait of young people forging love and community amidst struggle, and a moving story of one immigrant's journey to make her home in the world.
About the Author
---
Sarah Thankam Mathews grew up between Oman and India, immigrating to the United States at seventeen. She is a recipient of a Best American Short Stories 2020 award and fellowships from the Asian American Writers Workshop and the Iowa Writers Workshop. All This Could Be Different is her first novel.
Praise For…
---
"[All This Could Be Different is] a bildungsroman, a gorgeous queer love story, and a musing on labor and immigration. But you'll fall most in love with its wickedly sharp narrator, who's funny, passionate, and complicated." —The Cut

"[What] initially blew me away was the clarity of Mathews' writing and the accuracy with which she describes experiences I'd previously taken for granted. Her writing is funny, incisive . . . This book gave me a lot to ponder, but ultimately left me hopeful." —David Vogel, Buzzfeed

"[A] dazzling debut . . . There is so much here to chew on: economic and food insecurity, tenants' rights, coming into one's own, queer romance, immigration, and the vitality of friendship. All This Could Be Different is an epic and beautiful first novel from a writer to watch." —them.

"[One of] our most anticipated releases of the season . . . [written] with tenderness and exhilaration." —Elle

"All This Could Be Different is an extraordinary novel, spiny and delicate, scathingly funny and wildly moving. Sarah Thankam Mathews is a brilliant writer, one whose every ringing sentence holds both bite and heart." —Lauren Groff, author of Matrix

"Some books are merely luminous—this one is iridescent: with joy and pain, isolation and communion, solemnity and irreverent humor. Even the title has twin meanings. 'All this could be different' is a sorrowing observation of our contemporary precarity, but 'All this could be different' is equally—and ultimately—a declaration, an electrifying act of resistance." —Susan Choi, author of Trust Exercise

"Battle cry and love song both, All This Could Be Different is an ode—tender, sexy, and smart—to coming of age in turbulent times. As Sneha navigates the hilarious and deadly serious work of being a good friend, lover, daughter, immigrant, adult, queer woman, and worker under late stage capitalism, what emerges is a portrait of a woman determined to live her life to its brim--no matter what. Sarah Thankam Mathews writes like a blaze, and this book will remind you what it is to be young and powerfully alive." —C Pam Zhang, author of How Much of These Hills is Gold

"Sarah Thankam Mathews' prose is undeniable and hyper attuned to the terrible privacy of the mind. In All This Could Be Different, she captures the sneaky, unsayable parts of longing and writes sharply about the long shadow of family." —Raven Leilani, author of Luster

"Everything about this novel is perfect. It's about friendship and work, two things which so rarely get treated with such nuance and care in fiction. Sneha's narrative voice is both snarky and warm. Every scene comes alive. If you're looking for your next great queer Millennial read, this is it." —BookRiot

"Sarah Thankam Mathews's All This Could Be Different is a deeply honest and compelling testimony. It is breathtaking in its beauty and profound in its meaning. Mathews captures the complexities, contradictions, and dissonances of life with astounding aplomb and care. All This Could Be Different is quietly epic." —Robert Jones, Jr., author of The Prophets

"Sharply observed and deeply empathetic, All This Could Be Different is a gorgeous story of dreaming and daring against the odds. I loved these flawed, funny friends and I rooted for them, and as I raced toward the end I felt an ache in my chest, missing them already." —Dawnie Walton, author of The Final Revival of Opal & Nev
 
"Sarah Thankam Mathews' All This Could Be Different is an exquisite debut. Mathews' is a completely original voice that is, by turns, fierce, witty, musical, poignant, and, yes, deeply sexy. Simultaneously a tender portrait of chosen family, a stunningly rendered queer romance, and a keen reflection on work in a monstrous economy, this novel also thrums with a persistent, private hope for another, better world. It is the kind of book one should read not only to be entertained or impressed, but also to feel less alone." —Sanjena Sathian, author of Gold Diggers