Almost Brown: A Memoir (Hardcover)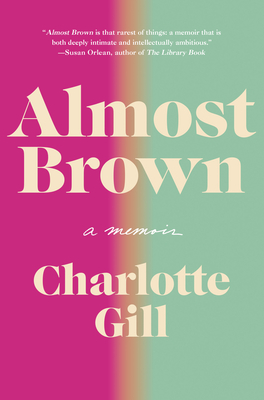 Description
---
An award-winning writer retraces her dysfunctional, biracial, globe-trotting family's journey as she reckons with ethnicity and belonging, diversity and race, and the complexities of life within a multicultural household.

Charlotte Gill's father is Indian. Her mother is English. They meet in 1960's London when the world is not quite ready for interracial love. Their union, a revolutionary act, results in a total meltdown of familial relations, a lot of immigration paperwork, and three children, all in varying shades of tan. Together they set off on a journey from the United Kingdom to Canada and to the United States in elusive pursuit of life, liberty, and happiness—a dream that eventually tears them apart.

Almost Brown is an exploration of diasporic intermingling involving parents of two different races and their half-brown children as they experience the paradoxes and conundrums of life as it's lived between race checkboxes. Eventually, her parents drift apart because they just aren't compatible. But as she finds herself distancing from her father too—why is she embarrassed to walk down the street with him and not her mom?—she doesn't know if it's because of his personality or his race. As a mixed-race child, was this her own unconscious bias favoring one parent over the other in the racial tug-of-war that plagues our society? Almost Brown looks for answers to questions shared by many mixed-race people: What are you? What does it mean to be a person of color when the concept is a societal invention and really only applies halfway if you are half white? And how does your relationship with your parents change as you change and grow older?

In a funny, turbulent, and ultimately heartwarming story, Gill examines the brilliant messiness of ancestry, "diversity," and the idea of "race," a historical concept that still informs our beliefs about ethnicity today.
About the Author
---
Charlotte Gill is a bestselling and award-winning writer of fiction and narrative nonfiction. Ladykiller, her first book, was the recipient of the Danuta Gleed Award for short fiction. Eating Dirt, a tree-planting memoir, was a #1 national bestseller in Canada. Her work has appeared in Vogue and Hazlitt. Gill teaches writing in the MFA program in creative nonfiction at the University of King's College and is the Rogers Communications Chair of Literary Journalism at the Banff Centre for Arts and Creativity. She lives in British Columbia, Canada.
Praise For…
---
"Almost Brown is that rarest of things: a memoir that is both deeply intimate and intellectually ambitious. It fearlessly examines race and the issue of belonging, and at the same time is a tender, touching, often very funny tale of growing up and finding your way. Charlotte Gill is a narrator you come to love."—Susan Orlean, author of The Library Book
 
"This glorious story kept me up at night, pondering everyone's 'ancestral stew' and Kismet as the wondrous origins—and future—of our species. Exquisitely written, deeply researched, and tenderly observed, this is memoir at its finest."—Plum Johnson, author of They Left Us Everything

"Brilliantly observed and astute with sharp and tender character descriptions, Almost Brown is a gorgeous telling of a complicated family history and an essential exploration of race and belonging. Gill writes with her multifold gifts of lyricism, sly humor, and an expansive understanding of what it means to have your entire identity marred by generations of dysfunction, racism, diaspora, and childhood instability. Here is a memoir teeming with abundant heart, truth, and grace, as narrated to us by an expert writer with dazzling vision."—Lindsay Wong, author of The Woo-Woo

"Gill fearlessly examines the complexities and subtleties of growing up mixed race, offering an exploration of identity and belonging that is beyond skin tone and nationality, and a sharply observed commentary on one's own privilege and bias. This wonderfully written memoir is also a loving tribute to Gill's father, a character she evokes with tenderness and nuance. Intimate, moving, and whip-smart, Almost Brown dazzles with humor and heart."—Ayelet Tsabari, author of The Art of Leaving

"Beautifully written and appropriately irreducible, this book hit me in all sorts of funny-tender spots. Through immersive investigation and sharp social commentary, Gill overturns humanist platitudes and dicey purisms while recognizing the ongoing power of colonial hierarchies and racial arrangements. . . . A truly moving and insightful book."—Kyo Maclear, author of Birds Art Life