Year of the Tiger: An Activist's Life (Paperback)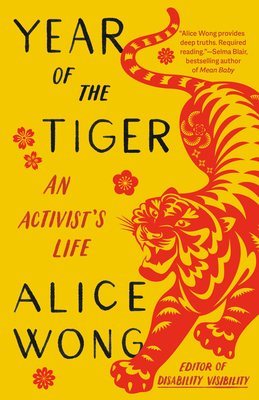 $17.00

Coming Soon - Available for Pre-Order Now
Description
---
This groundbreaking memoir offers a glimpse into an activist's journey to finding and cultivating community and the continued fight for disability justice, from the founder and director of the Disability Visibility Project

In Chinese culture, the tiger is deeply revered for its confidence, passion, ambition, and ferocity. That same fighting spirit resides in Alice Wong.
 
Drawing on a collection of original essays, previously published work, conversations, graphics, photos, commissioned art by disabled and Asian American artists, and more, Alice uses her unique talent to share an impressionistic scrapbook of her life as an Asian American disabled activist, community organizer, media maker, and dreamer. From her love of food and pop culture to her unwavering commitment to dismantling systemic ableism, Alice shares her thoughts on creativity, access, power, care, the pandemic, mortality, and the future. As a self-described disabled oracle, Alice traces her origins, tells her story, and creates a space for disabled people to be in conversation with one another and the world. Filled with incisive wit, joy, and rage, Wong's Year of the Tiger will galvanize readers with big cat energy.
About the Author
---
Alice Wong is a disabled activist, media maker, and research consultant based in San Francisco, California. She is the founder and director of the Disability Visibility Project, an online community dedicated to creating, sharing, and amplifying disability media and culture. Alice is also the host and co-producer of the Disability Visibility podcast and co-partner in a number of collaborations such as #CripTheVote and Access Is Love. From 2013 to 2015, Alice served as a member of the National Council on Disability, an appointment by President Barack Obama.
Praise For…
---
ONE OF THE MOST ANTICIPATED BOOKS OF THE YEAR: Ms. Magazine, Literary Hub, Electric Lit

"Alice Wong provides deep truths in this fun and deceptively easy read about her survival in this hectic and ableist society. I would like to imagine this memoir as required reading for our fellow earthlings. From start to finish I felt I was spending a week with an old friend, grateful for the work she has done, inviting us to be more aware and have conversations about disability justice. Read this book. You will be farther ahead as a person and ally to the disability community, which is essentially learning to be your own ally. In sickness and in health. Thank you, Alice."
—Selma Blair, bestselling author of Mean Baby

"Year of the Tiger is a ferocious, fun adventure in the style of my favorite fanzines of the '90s. Alice Wong is one of our foremost disability advocates, and yet this book isn't only about disability, though it discusses disability with frankness and humor; more importantly, it's not about 'overcoming' a condition. This book is about a colorful life lived alongside disability—a full life. This memoir is a must-read."
—Esmé Weijun Wang, author of The Collected Schizophrenias

"An expansive and maximalist self-portrait of a person who I look up to with all my heart. Alice Wong's memoir is hundreds of different pieces of her that come together poignantly to illuminate the crackling, bombastic, and deeply thoughtful artist and activist she is. Year of the Tiger deftly avoids the trappings of traditional memoir to create a new form—ferocious, boundary-breaking, and brilliant—that is completely unique to her and all her triumphant work."
—Jonny Sun, New York Times bestselling author of Goodbye, again and everyone's a aliebn when ur a aliebn too

"From its first pages, Year of the Tiger embodies rebellion and defies expectation. Alice's tenacity and winking mischievousness make her a pleasure to read—this book is empowering, thought-provoking and an enthusiastic call to action. Her absolute confidence and creative devotion to herself, her safety, and most importantly, her joy . . . it's truly exhilarating."
—Stephanie Foo, author of What My Bones Know

"Stunning. . . . [Wong] sprinkles in dry humor and is adept at balancing compassion with flashes of rage. The combination of memoir, manifesto, scrapbook, confession, and rousing call to action make for a winning mix. This one's tough to forget."
—Publishers Weekly (starred review)

"Wong's collection provides a truly multidimensional portrait of a disabled writer effectively fighting the tendency of able-bodied people to treat the disability community as a monolith, an idea the author effectively deconstructs throughout the book. Not just beautifully written, the book is formally innovative, incorporating fiction (most notably, science fiction) and illustrated elements that are both profoundly insightful and consistently creative. Wong's grasp of social justice issues is as impressive as her ability to explain complex ideas clearly, passionately, and often humorously. . . . A stunningly innovative, compulsively readable hybrid of memoir, cultural criticism, and social activism."
—Kirkus Reviews (starred review)

"An imaginative and insightful memoir. . . . Written in a refreshingly frank and honest manner, Wong explores communal joy, grief, and rage and carves out a space for all people to be in conversation with one another. . . . An essential read for anyone with an interest in accessible futures, community building, and social justice."
—Zhui Ning Chang, Library Journal

"Stylish. . . . Moving. . . . Compelling. . . . Seasoned generously with [Wong's] quick wit and fierce calls to action. . . . Wong's thoughtful use of multimedia elements . . . adds playfulness and dimension. . . . A kaleidoscopic image of Wong's life, illuminated by her revolutionary ideas of interdependence and care."
—Claire Fallon, BookPage

"Incisive, joyful, angry, and passionate."
—Jaime Herndon, Book Riot

"An inviting look at one of our most important community-builders. . . . Alice Wong's commitment to her cause is felt on every page."
—Literary Hub, "Lit Hub's Most Anticipated Books of 2022"

"Essential."
—Karla J. Strand, Ms. Magazine

"Phenomenal."
—R.O. Kwon, Electric Lit, "62 Books by Women of Color to Read in 2022"