From a Certain Point of View: The Empire Strikes Back (Star Wars) (Hardcover)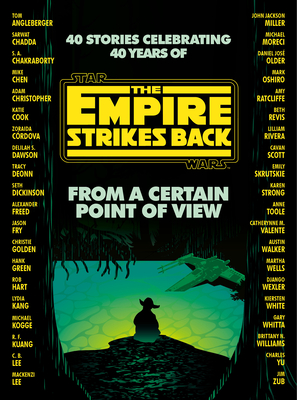 $35.00
This item is out of stock with our warehouse. Some recently published books may be in stock @ Room. Email to check.
Description
---
NATIONAL BESTSELLER • Celebrate the legacy of The Empire Strikes Back with this exciting reimagining of the timeless film featuring new perspectives from forty acclaimed authors.  

On May 21, 1980, Star Wars became a true saga with the release of The Empire Strikes Back. In honor of the fortieth anniversary, forty storytellers re-create an iconic scene from The Empire Strikes Back through the eyes of a supporting character, from heroes and villains, to droids and creatures. From a Certain Point of View features contributions by bestselling authors and trendsetting artists:

• Austin Walker explores the unlikely partnership of bounty hunters Dengar and IG-88 as they pursue Han Solo.
• Hank Green chronicles the life of a naturalist caring for tauntauns on the frozen world of Hoth.
• Tracy Deonn delves into the dark heart of the Dagobah cave where Luke confronts a terrifying vision.
• Martha Wells reveals the world of the Ugnaught clans who dwell in the depths of Cloud City.
• Mark Oshiro recounts the wampa's tragic tale of loss and survival.
• Seth Dickinson interrogates the cost of serving a ruthless empire aboard the bridge of a doomed Imperial starship.

Plus more hilarious, heartbreaking, and astonishing tales from:
Tom Angleberger, Sarwat Chadda, S. A. Chakraborty, Mike Chen, Adam Christopher, Katie Cook, Zoraida Córdova, Delilah S. Dawson, Alexander Freed, Jason Fry, Christie Golden, Rob Hart, Lydia Kang, Michael Kogge, R. F. Kuang, C. B. Lee, Mackenzi Lee, John Jackson Miller, Michael Moreci, Daniel José Older, Amy Ratcliffe, Beth Revis, Lilliam Rivera, Cavan Scott, Emily Skrutskie, Karen Strong, Anne Toole, Catherynne M. Valente, Django Wexler, Kiersten White, Gary Whitta, Brittany N. Williams, Charles Yu, Jim Zub
 
All participating authors have generously forgone any compensation for their stories. Instead, their proceeds will be donated to First Book—a leading nonprofit that provides new books, learning materials, and other essentials to educators and organizations serving children in need. To further celebrate the launch of this book and both companies' longstanding relationships with First Book, Penguin Random House will donate $100,000 to First Book and Disney/Lucasfilm will donate 100,000 children's books—valued at $1,000,000—to support First Book and their mission of providing equal access to quality education.
About the Author
---
Seth Dickinson is the author of The Traitor Baru Cormorant, the forthcoming Exordia, and many short stories. Seth has also written lore for Destiny and Godfall and designed the open-source space opera Blue Planet. The use of the Force to interfere in the secular universe is inevitably corrupting, so all light-side Force users either become petty police or withdraw into Taoist meditation in search of absolute truth. This leaves the use of the Force as a political power to malevolent dark-side adepts, who can only be resisted by their light-side counterparts. The attempt to find a just yet enlightened resolution to this paradox is the heart of Star Wars. Seth dreams of becoming a muscular yet small-brained deepwater fish.

Hank Green is the #1 New York Times bestselling author of An Absolutely Remarkable Thing and A Beautifully Foolish Endeavor. He's also the CEO of Complexly, a production company that creates educational content, including Crash Course and SciShow, prompting The Washington Post to name him "one of America's most popular science teachers." Complexly's videos have been viewed more than two billion times on YouTube. Hank and his brother, John, are also raising money to dramatically and systematically improve maternal health care in Sierra Leone, where, if trends continue, one in seventeen women will die in childbirth. 

R. F. Kuang is the Nebula, Locus, and World Fantasy award nominated author of The Poppy War and The Dragon Republic (HarperVoyager). She has an MPhil in Chinese studies from the University of Cambridge and is currently pursuing an MSc in contemporary Chinese studies at Oxford University on a Marshall Scholarship. She also translates Chinese science fiction to English. Her debut The Poppy War was listed by Time and The Guardian as one of the best books of 2018 and has won the Crawford Award and Compton Crook Award for Best First Novel.

Martha Wells has been an SF/F writer since her first fantasy novel was published in 1993, and a Star Wars fan since she saw A New Hope in the theater in 1977. Her work includes The Books of the Raksura series, The Death of the Necromancer, the Ile-Rien trilogy, The Murderbot Diaries series, media tie-ins for Star Wars and Stargate: Atlantis, as well as short fiction, YA novels, and nonfiction. She was also the lead writer for the story team of Magic: The Gathering's Dominaria expansion in 2018. She has won a Nebula Award, two Hugo Awards, and two Locus Awards, and her work has appeared on the Philip K. Dick Award ballot, the BSFA Award ballot, the USA Today bestseller list, and the New York Times bestseller list.

Kiersten White is the New York Times bestselling, Stoker Award–winning author of many books, including the And I Darken trilogy, the Slayer series, the Camelot Rising trilogy, and The Dark Descent of Elizabeth Frankenstein. She owns a perfectly reasonable number of lightsabers, and sometimes even lets her kids play with them.
Praise For…
---
"An A+ list of today's best sf/f writers explore the inner reaches of a galaxy far, far away, which is sure to appeal to sf readers and Star Wars fans alike."—Booklist