The Wild Huntsboys (Hardcover)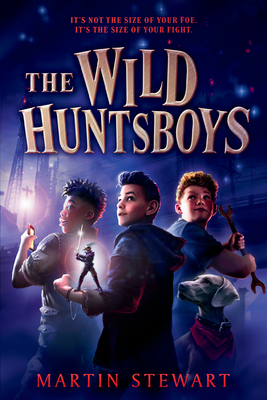 $17.99

Usually Ships in 2-7 Days
Description
---
In the spirit of Adam Gidwitz comes a fairytale for the modern reader, but this time, the faeries are the monsters lurking in the shadows.

In a city overrun by war, Luka doesn't have time for games. So when his little sister asks him to care for her faeries as she's sent away to escape the air raids, he dismisses her childish­ness. But it's already more than he can bear to see her go, so he promises to do as she asks.

A promise that Luka quickly breaks. In an empty home, anger and frustration get the better of him. Instead of leav­ing an offering for the faeries, he flings their saucer of milk as far out the window as he can. Big mistake. The faeries are not only very real, but they're more ter­rifying than he could have ever imag­ined. And now they want revenge.

With the aid of his new friends--a savvy techie, a quiet evacuee, and an unlikely ally--Luka has three days to turn his house into a fortress. But his problems are even more complicated than he thought: it's not just the faeries who are out to get the Wild Huntsboys . . .

If Luka fails, those closest to him will pay the price--and time is running out.
About the Author
---
MARTIN STEWART has previously worked as an English teacher, university lecturer, barman, recycling technician, and golf caddy. A native of Glasgow, he now lives on Scotland's west coast with his wife, two children, and a very big dog. He enjoys cooking with eggs, running on the beach, worrying about the Bears' offense, and buying books to feed his to-be-read pile.
Praise For…
---
Raves for The Wild Huntsboys:

* "An action-packed adventure."—Publishers Weekly, starred review
 
"A breathless, adventure-filled combination of fantastical and futuristic."—Kirkus Reviews

"Stewart's brilliant eye for sardonic humor smoothly woven into tragedy works just as well for this younger audience as in Riverkeep and The Sacrifice Box."—BCCB