My Brother Sam Is Dead (Scholastic Gold) (Mass Market)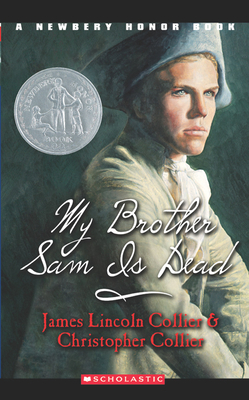 $8.99

In stock with our warehouse--usually ships within 1-7 days. May or may not be in stock at Room.
Description
---
The classic story of one family torn apart by the Revolutionary WarAll his life, Tim Meeker has looked up to his brother Sam. Sam's smart and brave -- and is now a part of the American Revolution. Not everyone in town wants to be a part of the rebellion. Most are supporters of the British -- including Tim and Sam's father. With the war soon raging, Tim know he'll have to make a choice -- between the Revolutionaries and the Redcoats . . . and between his brother and his father.
About the Author
---
Born in New York City in 1928, author James Lincoln Collier is beloved by young readers in particular for the award-winning historical novels he has written with his brother, historian Christopher Collier. A graduate of Hamilton College, Collier served in the U.S. Army after college and then worked as a magazine editor for several years. Collier always intended to be a writer, however, considering it to be "the family business."
Though he began his career writing for adults, in 1965 Collier published his first book for children, the nonfiction Battleground: The United States Army in World War II. He branched out into fiction for young readers with the adventure story The Teddy Bear Habit: or, How I Became a Winner in 1967. Perhaps his most famous children's book, however, is the Newbery Honor Book he wrote with his brother, the popular Revolutionary War story My Brother Sam Is Dead.
The father of two children, Collier is also an accomplished trombone player. He lives in New York City, where he continues to write and play jazz music.
This award-winning author graduated from Clark University and earned a Ph.D. at Columbia University in History. Born in 1930 in New York City, Collier is an active member in many organizations such as the Connecticut Historical Commission and the State Museum Advisory Board. His honors include the Kidger Prize for Teaching, the Jane Addams Peace Prize, and the Newbery Honor. He previously worked as a junior high school teacher. Collier enjoys writing for children because he wants to show them that history is both interesting and important. His specialty is in the Revolutionary Era and New England. Christopher Collier lives with his wife in Orange, Connecticut and is the father of three. He is currently Professor Emeritus of American History at the University of Connecticut.