Where Do Steam Trains Sleep at Night? (Where Do...Series) (Hardcover)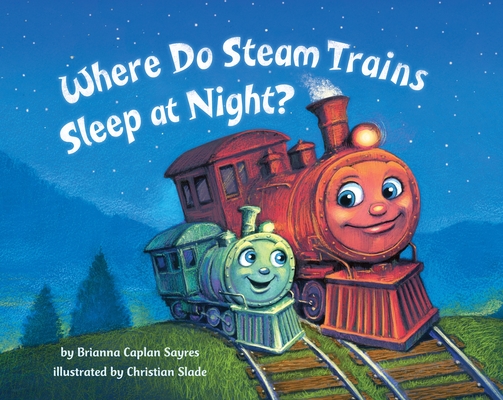 $16.99

In stock with our warehouse--usually ships within 1-7 days. May or may not be in stock at Room.
Description
---
The same team who brought you Where Do Diggers Sleep at Night? have engineered another rollicking bedtime story—for train lovers everywhere!
 
Have you ever wondered what little trains do when it's time for bed? The same things you do! Freight trains, passenger trains, subways, trolleys—and more—wash up, have a snack, load their teddies for story time, and get rocked to sleep by mommy and daddy trains beneath a blanket of stars. Little train lovers with a one-track mind will gain a new affinity for their bedtime routine when they find they share it with their favorite vehicles.

"Sayres and Slade move naturally from their truck lullaby, Where Do Diggers Sleep at Night? , to this nighttime serenade to all things train. Hopeful engineers will want to be able to identify the many different types of trains, and their out-of-the-know adults will appreciate this inclusive primer." —Kirkus Reviews
About the Author
---
BRIANNA CAPLAN SAYRES didn't know a breakdown train from a roundhouse—until her three-year-old fell in love with Thomas the Tank Engine! Now Brianna and her husband are busy chugging along with their two boys in Seattle. She is also the author of Where Do Diggers Sleep at Night?, and Where Do Jet Planes Sleep at Night?, illustrated by Christian Slade. You can visit Brianna on the Web at briannacaplansayres.com.
 
CHRISTIAN SLADE's classic, distinctive art style can be found in picture books, novels, and magazines for children. He holds an MA in illustration from Syracuse University, as well as a BFA in drawing and animation from the University of Central Florida. He lives with his wife, two children, and two corgis in Florida. Visit him on the Web at christianslade.com.
Praise For…
---
"Sayres and Slade move naturally from their truck lullaby, Where Do Diggers Sleep at Night? (2012), to this nighttime serenade to all things train. In gentle scenes that reflect the colors of the setting sun or are lightened by the stars and moon under a dusky-blue sky, anthropomorphized trains prepare to bed down for the night. "Where do snowplow trains sleep / after all the tracks are clear? / Do their moms say, 'Plow your toys, kids— / bedtime's almost here'?" The rhyming verse and illustration pair to make clear to readers the job of each train: the monorail's heavy-lidded eyes look toward the airport it services, and the subway rests under a brightly lit and busy city street reminiscent of Times Square. Trains include steam, passenger, freight, fire, high-speed, and breakdown trains as well as trolleys, and the ending suitably places most around a roundhouse under their blanket of stars…before a turn of the page reveals a boy and a girl asleep in their twin beds, their toy trains and tracks laid out in an otherwise pristine bedroom. Pair this with Kevin Lewis' Chugga-chugga Choo-choo, illustrated by Daniel Kirk (1999), for more train fun. Thanks to the popularity of Thomas the Tank Engine, hopeful engineers will want to be able to identify the many different types of trains, and their out-of-the-know adults will appreciate this inclusive primer. ——Kirkus Reviews