Go Like Hell: Ford, Ferrari, and Their Battle for Speed and Glory at Le Mans (Paperback)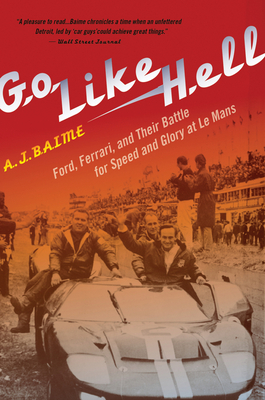 $17.99

In stock with our warehouse--usually ships within 1-7 days. May or may not be in stock at Room.
Description
---
As told in the film Ford v. Ferrari, Go Like Hell transports readers to a risk-filled, glorious time in this brilliant portrait of a rivalry between two industrialists, the cars they built, and the "pilots" who would drive them to victory, or doom.
By the early 1960s, the Ford Motor Company, built to bring automobile transportation to the masses, was falling behind. Young Henry Ford II, who had taken the reins of his grandfather's company with little business experience to speak of, knew he had to do something to shake things up. Baby boomers were taking to the road in droves, looking for speed not safety, style not comfort. Meanwhile, Enzo Ferrari, whose cars epitomized style, lorded it over the European racing scene. He crafted beautiful sports cars, "science fiction on wheels," but was also called "the Assassin" because so many drivers perished while racing them.
Go Like Hell tells the remarkable story of how Henry Ford II, with the help of a young visionary named Lee Iacocca and a former racing champion turned engineer, Carroll Shelby, concocted a scheme to reinvent the Ford company. They would enter the high-stakes world of European car racing, where an adventurous few threw safety and sanity to the wind. They would design, build, and race a car that could beat Ferrari at his own game at the most prestigious and brutal race in the world, something no American car had ever done.
About the Author
---
A.J. Baime is the New York Times bestselling author of The Accidental President: Harry S. Truman and the Four Months that Changed the World (2017), The Arsenal of Democracy: FDR, Detroit, and an Epic Quest to Arm an America at War (2014), Go Like Hell: Ford, Ferrari, and Their Battle for Speed and Glory at Le Mans (2009), and Dewey Defeats Truman: The 1948 Election and the Battle for America's Soul (2019). Baime is a longtime regular contributor to the Wall Street Journal, and his articles have also appeared in the New York Times, the Washington Post, and numerous other publications.
Praise For…
---
"All I can say is: Wow! Go Like Hell drops you right smack in the middle an intense and ferocious battle between Ford and Ferrari in the 1960s. Baime's exceptional voice puts the reader into minds of the drivers, designers, and executives who formed the Golden Age of racing; his fantastic descriptions allow the reader to feel the pounding of the cylinders. If you like cars—nay, if you have ever seen a car—you must read this book!"
—Garth Stein, New York Times bestselling author of The Art of Racing in the Rain "Light up a Lucky Strike. Pour yourself a good stiff drink. Go Like Hell is a wonder, chock-a-block with great heroes and villains, a pedal-to-the metal account of greed and gumption, a chronicle of obsession and vain glory. Don't worry about that seat belt. Just go for the ride." 
  —Leigh Montville, author of The Big Bam, Ted Williams and At the Altar of Speed
"Go Like Hell is an epic. Ambitions, lives, fortunes, friendships, and a place in history--all are on the line here.  A.J. Baime marvelously reveals the people behind the machines."
—Neal Bascomb, author of The Perfect Mile and Hunting Eichmann "Mix sport, death and big business, the biggest.  Throw in vivid portraits of  Enzo Ferrari and Henry Ford II,  and the drivers, men obsessed with speed and fast cars while trying not to get killed. Go Like Hell is a very hard book to put down. Sharp and suspenseful from beginning to end."
—Robert Daley, author of The Cruel Sport and Year of the Dragon "Baime's skillful reporting and introspective writing style make for an insightful portrait of two automobile legends, as well as an exciting account of a bygone era in racing and in American culture." —Publishers Weekly "Turbo-charged look at the heated race-car rivalry between Ferrari and Ford... Baime's rich descriptions of the card lift them to near-human proportions. The ultimate speed-read."  —Kirkus Reviews "A remarkably intimate look into the famous 1960s Ford-versus-Ferrari battles at Le Mans." —Automobile "Like the cars it describes, Go Like Hell is a streamlined marvel built for speed, fueled by testosterone and likely to elicit happy grins from anyone who has ever heard music in the squeal of a tire or the roar of an engine . . . [Baime] hits the gas, pops the clutch and takes readers on a red-blooded ride to glory that will have them smiling all the way to the checkered flag."  —Dallas Morning News "A pleasure to read . . . chronicles a time when an unfettered Detroit, led by 'car guys,' could achieve great things." -- Wall Street Journal "Henry Ford II's monumental effort to topple Enzo Ferrari from the summit of sports-car racing at Le Mans is vibrantly told in this fast-paced account of the clash between the two fearsome, hyper-competitive automotive titans." – Bloomberg "Insightful, well written accounts of the events and people involved along with inspired detail regarding the vehicles makes for a page turner. This is an ideal book for gear-heads, automotive enthusiasts, historians and people who might find amazing symmetry in what happened over 40 years ago verses what is happening today." -- Denver Examiner  "Engaging... Grips you from the early pages to the conclusion." -- Autoweek —