Junior Seau: The Life and Death of a Football Icon (Paperback)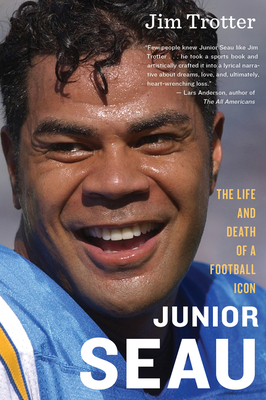 $15.95

In stock with our warehouse--usually ships within 1-7 days. May or may not be in stock at Room.
Description
---
"Few people knew Junior Seau like Jim Trotter . . . he took a sports book and artistically crafted it into a lyrical narrative about dreams, love, and, ultimately, heart-wrenching loss."—Lars Anderson, author of The All Americans

"Leave it to Jim Trotter, who knew Junior Seau better than anyone in our business, to capture his competitive essence and personal demons equally well. I had so many questions about why Seau's life ended the way it did. Jim answered them with depth and compassion in this thorough and important book."—Peter King, editor in chief, The MMQB
 
Tiaina Baul "Junior" Seau is widely considered to be among the best linebackers in NFL history, a ten-time All-Pro, a twelve-time Pro Bowl selection, and a first-ballot entrant into the Pro Football Hall of Fame.

But in 2012, just two years after retiring from football, Junior Seau committed suicide. Studies of his brain by the National Institutes of Health concluded that Seau suffered from chronic traumatic encephalopathy (CTE), a brain disease often caused by repeated hits to the head. Seau's suicide spawned numerous investigations into the brains of deceased NFL players, and many were found to have CTE.

Drawing on exclusive access to Seau's family as well as Seau's never-before-seen diaries and letters, Jim Trotter paints a moving and revealing portrait of a larger-than-life sports star whose achievements on the field were rivaled by his demons off it.
 
"No media member is better qualified to write this book than Trotter . . . it's a highly informative, easy read." —Nick Canepa, San Diego Union-Tribune
About the Author
---
Longtime NFL reporter JIM TROTTER covers football for ESPN. He started his career in San Diego, where he worked up the ladder from preps reporter to lead NFL writer at the San Diego Union-Tribune. He then joined Sports Illustrated as a senior writer for more than a decade. Trotter has appeared on numerous national media outlets, including CNN, Fox News, ESPN, NFL Network, and The Jim Rome Show. He is also a member of the Pro Football Hall of Fame selection committee.
Praise For…
---
"Leave it to Jim Trotter, who knew Junior Seau better than anyone in our business, to capture his competitive essence and personal demons equally well. I had so many questions about why Seau's life ended the way it did. Jim answered them with depth and compassion in this thorough and important book."—Peter King, editor-in-chief, The MMQB "Few people knew Junior Seau like Jim Trotter, who gracefully guides readers into the unique world of one of the NFL's most compelling figures of the last quarter-century. Trotter has achieved something rare here: he took a sports book and artistically crafted it into a lyrical narrative about dreams, love and, ultimately, heart-wrenching loss."—Lars Anderson, author of The Storm and the Tide and The All Americans "Junior Seau shot himself in the heart, maybe to save his head for the pathologist. But Jim Trotter's book is about the heart, and of the heart."—Tom Callahan, author of Johnny U and The G.M.  "This book demonstrates why Trotter is one of the best talents in sports journalism. He didn't just write a great book about a football legend… he wrote one of the best sports biographies of all time."—Mike Freeman, author of Bloody Sundays and Bowden "Junior Seau lived a remarkable, passion-filled and eventually tragic life. His death may make him one of the most important figures in football history. Jim Trotter masterfully tells it all here, in a powerful book that may change the way you look at the game."—Dan Wetzel, national columnist, Yahoo Sports  "Trotter, who covers the NFL for ESPN, tells a difficult story and tells it well...this is a powerful, thought-provoking account, handled with grace and sensitivity, of a superior football player's life and death." —Booklist "No media member is better qualified to write this book than Trotter...it's a highly informative, easy read."—Nick Canepa, The San Diego Union-Tribune —