Thinking Inside the Box: Adventures with Crosswords and the Puzzling People Who Can't Live Without Them (Hardcover)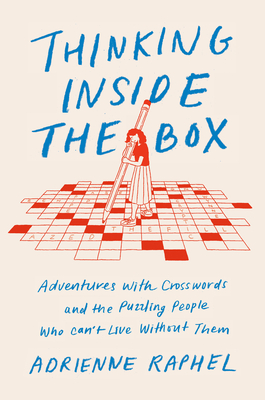 $27.00
This item is out of stock with our warehouse. Some recently published books may be in stock @ Room. Email to check.
Description
---
"This cultural and personal history of crosswords and their fans, written by an aficionado, is diverting, informative, and discursive." —The New York Times Book Review, Editors' Choice

A delightful, erudite, and immersive exploration of the crossword puzzle and its fascinating history
 
Almost as soon as it appeared, the crossword puzzle became indispensable to our lives. Invented practically by accident in 1913, when a newspaper editor at the New York World was casting around for something to fill empty column space, it became a roaring commercial success almost overnight. Ever since then, the humble puzzle has been an essential ingredient of any newspaper worth its salt. But why, exactly, are the crossword's satisfactions so sweet?

Blending first-person reporting from the world of crosswords with a delightful telling of its rich literary history, Adrienne Raphel dives into the secrets of this classic pastime. Thinking Inside the Box is an ingenious love letter not just to the abiding power of the crossword but to the infinite joys and playful possibilities of language itself.
About the Author
---
Adrienne Raphel has written for The New Yorker, The Atlantic, The New Republic, Slate, and Poetry, among other publications. Her debut poetry collection, What Was It For, won the Rescue Press Black Box Poetry Prize. Born in southern New Jersey and raised in northern Vermont, she holds an MFA from the Iowa Writers' Workshop and a PhD from Harvard.
Praise For…
---
"This cultural and personal history of crosswords and their fans, written by an aficionado, is diverting, informative and discursive." — Editors' Choice, The New York Times Book Review

"Raphel proves a skilled cultural historian, dipping into newspaper archives and movie reels and private correspondence to describe how the crossword came to conquer the world. . . . In my favorite memoir chapter, Raphel visits a writing retreat to construct her own crossword. After much technical discussion of grids and themes and fill, she writes: 'I became a mechanical god. I shifted gears; I tuned each letter individually. … I was a chemist, titrating my micro-universe; a lepidopterist, shifting a butterfly's wing onto a pin.' She was also, in this and only this, a failure. Her puzzle was rejected, as so many are, by The Times. But her affectionate exegesis of this pastime, this passion, this 'temporary madness,' succeeds. Like a good crossword, her book challenges us to back away from our assumptions, allows us to think differently and apply ourselves again."  — Peter Sagal, New York Times Book Review

"Fascinating . . . Raphel is particularly good at shifting viewpoints. . . . Chapters, such as 'This Is Not a Crossword,' looking at the intersection between surrealism and crosswords, fairly sing… Raphel's approach is reminiscent of Mary Roach's work, and even cruciverbalists well versed in their hobby's history will discover something illuminating here. Nonpuzzling readers may discover a new hobby." — Library Journal

"Raphel delivers an intriguing and informative look at the crossword puzzle. . . This enjoyable survey illuminates many lesser-known aspects of a wildly popular pastime." — Publishers Weekly

"For crossword puzzlers of every ilk, from solvers of the Monday-edition no-brainer to pencil-chewing addicts of the cryptic, Thinking Inside The Box is a gold mine of revelations. If there is a pantheon of cruciverbalist scholars, Adrienne Raphel has established herself squarely within it." – Mary Norris, bestselling author of Between You & Me: Confessions of a Comma Queen and Greek to Me: Adventures of the Comma Queen

"Thinking Inside the Box is a witty, wise, and wonderfully weird journey that will change the way you think. Raphel is an insatiably curious and infectiously passionate guide who plunges headfirst into the rich world of puzzles and the people who love them to reveal the fascinating acrobatics of language and the inner life of words. This book is a delight." – Bianca Bosker, bestselling author of Cork Dork: A Wine-Fueled Adventure Among the Obsessive Sommeliers, Big Bottle Hunters, and Rogue Scientists Who Taught Me to Live for Taste
 
"If you remember precisely where you were when you first encountered the words ETUI and ONER, I suspect you'll be enchanted by Adrienne Raphel's Thinking Inside the Box. This delightfully engrossing, charmingly and enthusiastically well-written history of the crossword puzzle tells you everything you need to know, and any number of things you couldn't have imagined, about the invention and eventual world domination of the thing that daily scratches a particular human itch: 'the yearning to solve a riddle, the desire to fill in a blank space, the obsession with perfection.'" – Benjamin Dreyer, bestselling author of Dreyer's English: An Utterly Correct Guide to Clarity and Style
 
"Thinking Inside the Box, like the puzzles it elegantly features, is full of treasures, surprises and fun. Adrienne takes readers from Will Shortz's empire hub in Pleasantville, NY, to the pages of Vladimir Nabokov's crossword butterfly puzzle doodles, to the blistering hotel ballrooms of crossword competitions, richly bringing to life the quirky, obsessive, fascinating characters in the crossword world. You'll never think about filling in the squares the same way again." – Mary Pilon, bestselling author of The Monopolists: Obsession, Fury, and the Scandal Behind the World's Favorite Board Game and The Kevin Show: An Olympic Athlete's Battle with Mental Illness
 
"Who would ever have thought the innocent crossword would hide such an intriguing story! After reading Adrienne Raphel's beautifully researched account, full of humor and personal insight, I've come to see these puzzles in a new light, and I certainly now treat their creators with fresh respect." – Professor David Crystal, author of The Cambridge Encyclopedia of the English Language