"A Problem from Hell": America and the Age of Genocide (Paperback)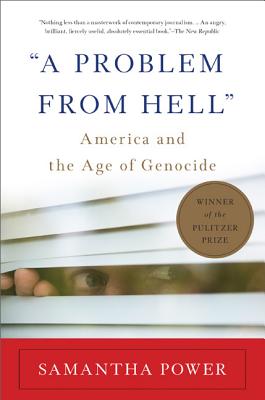 $22.99

In stock with our warehouse--usually ships within 1-7 days. May or may not be in stock at Room.
Description
---
In 1993, as a 23-year-old correspondent covering the wars in the Balkans, I was initially comforted by the roar of NATO planes flying overhead. President Clinton and other western leaders had sent the planes to monitor the Bosnian war, which had killed almost 200,000 civilians. But it soon became clear that NATO was unwilling to target those engaged in brutal "ethnic cleansing." American statesmen described Bosnia as "a problem from hell," and for three and a half years refused to invest the diplomatic and military capital needed to stop the murder of innocents. In Rwanda, around the same time, some 800,000 Tutsi and opposition Hutu were exterminated in the swiftest killing spree of the twentieth century. Again, the United States failed to intervene. This time U.S. policy-makers avoided labeling events "genocide" and spearheaded the withdrawal of UN peacekeepers stationed in Rwanda who might have stopped the massacres underway. Whatever America's commitment to Holocaust remembrance (embodied in the presence of the Holocaust Museum on the Mall in Washington, D.C.), the United States has never intervened to stop genocide. This book is an effort to understand why. While the history of America's response to genocide is not an uplifting one, "A Problem from Hell" tells the stories of countless Americans who took seriously the slogan of "never again" and tried to secure American intervention. Only by understanding the reasons for their small successes and colossal failures can we understand what we as a country, and we as citizens, could have done to stop the most savage crimes of the last century.
About the Author
---
Samantha Power, the Anna Lindh Professor of the Practice of Global Leadership and Public Policy at the Harvard Kennedy School and the William D. Zabel Professor of Practice in Human Rights at Harvard Law School, served as the U.S. ambassador to the United Nations from 2013 to 2017 and was previously Special Assistant to President Barack Obama and the Senior Director for Multilateral Affairs and Human Rights at the National Security Council.

She was the founding executive director of the Carr Center for Human Rights Policy at the Harvard Kennedy School and is also the author of the New York Times bestselling memoir The Education of an Idealist and Sergio: One Man's Fight to Save the World and the co-editor of The Unquiet American: Richard Holbrooke in the World.

Power is a former Balkan war correspondent and a recipient of the National Magazine Award and the Pulitzer Prize, among numerous other honors. She has been named by Time as one of the world's 100 Most Influential People and by Forbes as one of the World's 100 Most Powerful Women.
Praise For…
---
"Magisterial."—New Yorker

"An angry, brilliant, fiercely useful, absolutely essential book."—The New Republic

"Disturbing...engaging and well written...will likely become the standard text on genocide prevention."—Foreign Affairs

"Forceful.... Power tells this long, sorry history with great clarity and vividness."—Washington Post

"Amazingly persuasive."—New York Review of Books

"Bracing.... Power [is] the new conscience of the U.S. foreign-policy establishment."—Time