American Poison: How Racial Hostility Destroyed Our Promise (Hardcover)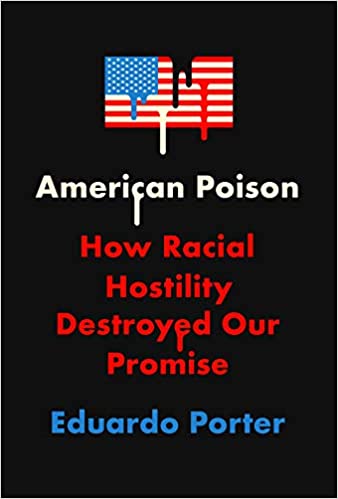 $26.95
This item is out of stock with our warehouse. Some recently published books may be in stock @ Room. Email to check.
Description
---
A sweeping examination of how American racism has broken the country's social compact, eroded America's common goods, and damaged the lives of every American--and a heartfelt look at how these deep wounds might begin to heal.

Compared to other industrialized nations, the United States is losing ground across nearly every indicator of social health. Its race problem, argues Eduardo Porter, is largely to blame.

In American Poison, the New York Times veteran shows how racial animus has stunted the development of nearly every institution crucial for a healthy society, including organized labor, public education, and the social safety net. The consequences are profound and are only growing graver with time. Leading us through history and across America--from FDR's New Deal through Bill Clinton's welfare reform to Donald Trump's retrograde and divisive policies--Porter pieces together how racial hostility has blocked American social cohesion at every turn, producing a nation that fails not only its black and brown citizens but white Americans as well.

American Poison is at once a broad, rigorous argument, and a profound cri de coeur. Even as it uncovers our most tenacious national pathology, it points the way toward hope, illuminating the ways in which, as the nation becomes increasingly diverse, it may well be possible to construct a new understanding of racial identity--and a more cohesive society on top of it.
About the Author
---
EDUARDO PORTER was born in Phoenix and grew up in the United States, Mexico, and Belgium. He is an economics reporter for The New York Times, where he was a member of the editorial board from 2007 to 2012 and the Economic Scene columnist from 2012 to 2018. He began his career in journalism as a financial reporter for Notimex, a Mexican news agency, in Mexico City. He was a correspondent in Tokyo and London, and in 1996 moved to São Paulo, Brazil, as editor of América Economía, a business magazine. In 2000, he went to work at The Wall Street Journal in Los Angeles to cover the growing Hispanic population. He is the author of The Price of Everything (2011), an exploration of the cost-benefit analyses that underpin human behaviors and institutions. He lives in Brooklyn.
Praise For…
---
"American Poison is a devastating, brutally honest, wonderfully researched read. It is also necessary and incredibly timely. From its discussion of how racism affects everything to its invitation to African Americans and Hispanics to unite and battle it together, Porter has crafted a narrative that ultimately becomes a statement: What we've done so far is wrong, and it's time to change it."—Gabino Iglesias, NPR

"Powerful. . . A scathing analysis of misguided white antagonism toward social welfare programs. . . This book should find a place in libraries documenting America's virulent racial history through the present."—Lewis M. Steel, Inequality.org

"With a scintillating rhythm and pointed language, the author exposes all the ways in which racism has infected everything from unions to welfare to education and immigration policy. . . The potency of Porter's argument is bolstered by his impressive source list and straightforward prose. American Poison is a work for our times from a writer who has found his subject."—Colleen Mondor, Booklist 

"Stirring. . . [Porter's] fast-moving chapters represent the best aspects of feature writing, driven by a clarity of purpose. When he details the scope of 'America's entrenched poverty,' he evaluates it in terms of the damage done to the entire nation."—Ron Slate, On the Seawall 

"Learned, well-written . . . Porter is at his strongest when he points out the tragic irony of a white working class, decimated by deindustrialization and wasted by substance abuse, focusing their hatreds on minorities and turning against the very social programs that might actually help them. . . A bracing wake-up call."—Michael Ignatieff, The New York Times Book Review  

"Fascinating . . . Porter is uniquely conversant and globally-minded on these issues."—Esquire,  "Best Books of 2020" 

"Timely and provocative."—Sandra Lilley, NBC Latino 

"An anguished and incisive treatise on how racism has contributed to 21st-century America's economic and social decline. . . [Porter's] cogent presentation succeeds in making the problem of racial animus relevant to all Americans. Progressive readers will concur with this bracing sociological study."—Publishers Weekly

"[Porter] clearly delineates a wide variety of conundrums that face American citizens, exacerbating divisions and hurting everyone. . . [He] capably pulls the strands together to demonstrate one of the narrative's most important ideas: how the U.S. lacks a true safety net. . . Another solid addition to the necessarily growing literature on one of America's most intractable issues."—Kirkus 

"An outstanding analysis of the central role that racial hostility has played throughout America's history in shaping the institutions that rob so many Americans of the promises of its democracy."—Clara Rodriguez, author of Changing Race 

"There are many problems that Americans deny, dismiss or blame on others, and racism is at the top of the list. This unflinching book confronts the stark reality of how racism continues to stand in the way of even the most obvious solutions to many of our national problems."—Naomi Oreskes, author of Why Trust Science? 

"If you yearn for a really sophisticated discussion of the rise of Trumpism in America, you have to read American Poison. Couching his lucid arguments in both historical and cross-cultural contexts, and drawing upon the most careful social science research, Eduardo Porter illuminates how racial hostilities emerge from, and can be restrained by, changing social, economic, and political situations. This book is an eye-opener!"—William Julius Wilson, author of When Work Disappears 

"Eduardo Porter finds in the nation's struggles with racism the will to move forward—not to a post-racial society, not yet, but to a multicultural, tolerant future. American Poison is a must read to understand the United States in this already turbulent century."—Jorge Ramos, author, Stranger: The Challenge of a Latino Immigrant in the Trump Era

"With courage and clarity, Eduardo Porter reveals the underpinnings of race in America and the stark challenge of overcoming the divides that have fueled demagogues like Trump. He explains that finding a common national and cultural identity will require tackling the deeply ingrained tribal logic with which America has organized its world. Powerful, sobering, and essential."—Robert B. Reich, author, The Common Good

"Seventy-six years ago, Gunnar Myrdal called it "The Negro Problem and Modern Democracy."  Eduardo Porter provides  a much needed updating. In an incisive and alarming analysis, he shows how racial dissonance is incited by white Americans. His innovative insights explain so much."—Andrew Hacker, author of Two Nations: Black and White, Separate, Hostile, Unequal