Mistress of the Art of Death (A Mistress of the Art of Death Novel #1) (Paperback)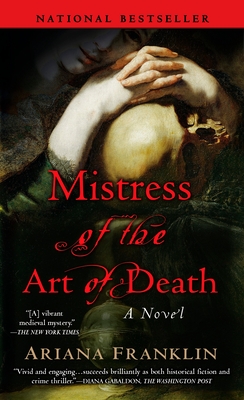 Description
---
The national bestselling hit hailed by the New York Times as a "vibrant medieval mystery...[it] outdoes the competition."

In medieval Cambridge, England, Adelia, a female forensics expert, is summoned by King Henry II to investigate a series of gruesome murders that has wrongly implicated the Jewish population, yielding even more tragic results. As Adelia's investigation takes her behind the closed doors of the country's churches, the killer prepares to strike again.
About the Author
---
Ariana Franklin is the pen name of British writer Diana Norman. A bestselling author and former journalist, she lives in England with her husband, the film critic Barry Norman.
Praise For…
---
"A fabulous read...irresistible." -- New York Daily News "Vivid and engaging...succeeds brilliantly as both historical fiction and crime thriller. [A] terrific book...with a dozen twists." -- Diana Gabaldon, Washington Post "One of the most compelling, suspenseful mysteries I've read in years." -- New York Times bestselling author Sharon Kay Penman "The medieval answer to Kay Scarpetta and the CSI detectives." -- Karen Harper, bestselling author of the Elizabeth I mystery series "Fascinating...a rollicking microcosm of budding science, medieval culture, and edge-of-your-seat suspense." -- USA Today "Expert researched, a brilliant heroine." -- Kate Mosse, New York Times bestselling author of Labyrinth "CSI meets The Canterbury Tales...commercial paydirt...delivered with panache." -- Kirkus Reviews (starred)