Here We Are: Notes for Living on Planet Earth (Hardcover)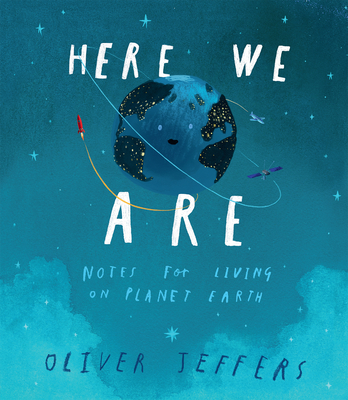 $19.99
Usually Ships in 1-5 Days
Staff Reviews
---
I have read this book dozens of times to my kid and I still find new things to love about it! It's just such a charming, wry, detailed, and loving overview of what a new kiddo might expect from life. The last two pages still make me tear up--the visual representation of how 'you're never alone on Earth' is such a potent and diverse depiction of community. 
— Gretchen Treu
Such a good, smart book for younger kids! This is a gentle, chatty introduction to the world, infused with a sense of deep respect for the earth and a reminder to all of us that we are never really alone on this planet. Great baby shower/ toddler gift. — From Gretchen's Picks
Description
---
#1 New York Times bestseller
A TIME Magazine Best Book of the Year
A NPR Best Book of 2017
A Boston Globe Best Book of 2017

"Moments of human intimacy jostle with scenes that inspire cosmic awe, and the broad diversity of Jeffers's candy-colored humans...underscores the twin messages that 'You're never alone on Earth' and that we're all in this together."--Publisher's Weekly (starred review)

"A true work of art."--BuzzFeed

Oliver Jeffers, arguably the most influential creator of picture books today, offers a rare personal look inside his own hopes and wishes for his child--and in doing so gifts children and parents everywhere with a gently sweet and humorous missive about our world and those who call it home.

Insightfully sweet, with a gentle humor and poignancy, here is Oliver Jeffers' user's guide to life on Earth. He created it specially for his son, yet with a universality that embraces all children and their parents. Be it a complex view of our planet's terrain (bumpy, sharp, wet), a deep look at our place in space (it's big), or a guide to all of humanity (don't be fooled, we are all people), Oliver's signature wit and humor combine with a value system of kindness and tolerance to create a must-have book for parents.

Praise for Here We Are:

-"A sweet and tender distillation of what every Earthling needs to know and might well spend a lifetime striving to achieve. A must-purchase for new parent shelves"--School Library Journal

-"From the skies to the animal kingdom to the people of the world and lots of other beautifully rendered examples of life on Earth, Here We Are carries a simple message: Be kind." --NPR

-"[An] enchanting gem of a children's book"--NBC's Today Show

-"A must-have book for parents."--Gambit

-"A celebration of people all shapes and sizes, and of the beauty and mystery of our Earth."--Booklist

-"...a beautifully illustrated guide to living on Earth and being a good person."--Brightly

-[Here We Are] is a tour through the land, the sea, the sky, our bodies; dioramas of our wild diversity....[Jeffers] is the master of capturing the joy in our differences."--New York Times Book Review


About the Author
---
Oliver Jeffers (www.oliverjeffersworld.com) makes art and tells stories. His books include How to Catch a Star; Lost and Found, which was the recipient of the prestigious Nestle Children's Book Prize Gold Award in the U.K. and was later adapted into an award-winning animated film; and the New York Times bestsellers Stuck; This Moose Belongs to Me; and Once Upon an Alphabet. He is also, of course, the illustrator of the #1 smash hits The Day the Crayons Quit and The Day the Crayons Came Home, both written by Drew Daywalt. His fine art is world-renowned and his dip-art exhibitions are a much sought-after event. Originally from Belfast, Northern Ireland, Oliver now lives and works in Brooklyn, New York, with his wife and young son. Follow him @OliverJeffers.

Praise For…
---
-"Moments of human intimacy jostle with scenes that inspire cosmic awe, and the broad diversity of Jeffers's candy-colored humans...underscores the twin messages that 'You're never alone on Earth'and that we're all in this together."--Publisher's Weekly (starred review)

-"A sweet and tender distillation of what every Earthling needs to know and might well spend a lifetime striving to achieve. A must-purchase for new parent shelves." --School Library Journal

-"From the skies to the animal kingdom to the people of the world and lots of other beautifully rendered examples of life on Earth, Here We Are carries a simple message: Be kind." --NPR

-"A true work of art."--Buzzfeed

-"A must-have book for parents."--Gambit

-"A celebration of people all shapes and sizes, and of the beauty and mystery of our Earth."--Booklist

-"Mr. Jeffers captures the love and the poignancy in what is styled as an introduction to a newcomer… Rich colors, witty pictures and a kind sensibility make this book, published late last year, a nice bedtime choice for readers ages 2-6."--The Wall Street Journal

-"...a beautifully illustrated guide to living on Earth and being a good person." --Brightly

-"Something of a user's guide to being alive and to life on Earth, Jeffers brilliantly uses pen and paintbrush to explore profound and puzzling questions, establishing straight off that the wisdom imparted here is wisdom for us all."--Chicago Tribune

-[Here We Are] is a tour through the land, the sea, the sky, our bodies; dioramas of our wild diversity....[Jeffers] is the master of capturing the joy in our differences."--New York Times Book Review