The Outer Beach: A Thousand-Mile Walk on Cape Cod's Atlantic Shore (Paperback)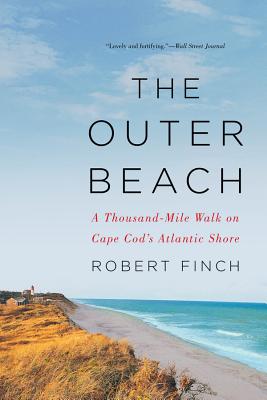 $16.95

In stock with our warehouse--usually ships within 1-7 days. May or may not be in stock at Room.
Description
---
"Finch is today's best, most perceptive Cape Cod writer in a line extending all the way back to Henry David Thoreau." —Christian Science Monitor
Weaving together Robert Finch's collected writings from over fifty years and a thousand miles of walking along Cape Cod's Atlantic coast, The Outer Beach is a poignant, candid chronicle of an iconic American landscape anyone with an appreciation for nature will cherish.
About the Author
---
Robert Finch has lived on Cape Cod for forty years, currently in Wellfleet, Massachusetts. He is the author of seven collections of essays, most recently of his radio scripts for his weekly commentary, "A Cape Cod Notebook," on the Cape and Islands NPR Station, WCAI.
Praise For…
---
Lovely and fortifying.…Geologists estimate that Cape Cod will disappear in around 6,000 years.…Until it goes, may there continue to be writers as good as Mr. Finch to commemorate it.
— Sam Sacks - Wall Street Journal

[Finch] is a keen and passionate observer.…[He] artfully conveys what is, at heart, so stirring about the beach: how its beauty and magisterial power cause us to ponder the larger things in life.
— New York Times Book Review

A lovable book, full of high-leaping energy and charm. And Finch is great company—wonderfully informed, observant, and funny. He gives us his leisured and warm friendship; he gives us his humor and enthusiasm. What astounding sights he meets just by wandering!
— Annie Dillard

Every step of this fifty-year journey is a lesson, a poem, a hypothesis, a paean, a keen stroke in a vivid seascape, a treatise, a fresh verse in an ongoing elegy. The Outer Beach is one of the most moving books about Cape Cod ever written, and Robert Finch is a genial, prickly, funny, exact, and generous companion. Talk about a beach book!

— Bill Roorbach, author of Temple Stream, Life Among Giants, and The Girl of the Lake

With a scientist's clarity and a storyteller's wit, [Finch] tells of excursions taken over nearly half a century.… His prose carries the tang of salt, the gossip of gulls, the hiss of wind and surf. Open this book and you can venture out with him in all weathers, all seasons—beachcombing, storm-chasing, birdwatching—all the while musing on the primordial dance between land and sea, and on the resilient creatures that live along the edge.
— Scott Russell Sanders, author of Dancing in Dreamtime

A lyrical ode to one of the most unique places on earth.
— Cape Cod Times

A master stylist, Finch is both a naturalist and a philosopher.… This beautiful book is to be savored in small bites by anyone yet to visit the Cape, and swallowed whole by those who love it as much as Finch does.
— Library Journal

The author chose John Keats' remark, 'Description is always bad,' as an epigraph for the book, but that comment surely does not apply to the precision and sheer loveliness of Finch's prose.…Vivid and graceful reflections on water and wind, shifting sands, and the inevitability of change.
— Kirkus Reviews (starred review)

In rich and subtle detail, his portraits of the beach capture its ever-shifting elements.… Finch draws lessons on the impermanence of life from this settlement built on sand, lessons that resonate with his evocative panorama of restive natural forces in an iconic setting.
— Publishers Weekly

The Hopi people have a term—tuwanasaapi—that translates as 'place where you belong.' Like many of the best chroniclers of the sea and shores, Robert Finch came to Cape Cod from inland reaches, and when he first arrived he found the place where he belonged. These incisive essays, collected over a period of fifty years, document in the sterling prose that is the landmark of Finch's writing the logic of his choice. In an age of globalization, the loss of place, and contact with the natural world due in part to the expanding dependence on the cyber world, we need books like this.

— John Hanson Mitchell, author of Ceremonial Time and editor of the former Sanctuary magazine