Dead Presidents: An American Adventure into the Strange Deaths and Surprising Afterlives of Our Nation's Leaders (Paperback)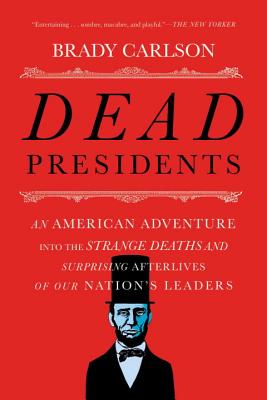 $15.95

In stock with our warehouse--usually ships within 1-7 days. May or may not be in stock at Room.
Description
---
"Entertaining…Carlson shifts deftly among sombre, macabre, and playful stories and shows how the death-tourism industry reveals more than amusing trivia." —The New Yorker
In Dead Presidents, public radio host and reporter Brady Carlson takes readers on an epic trip to presidential gravesites, monuments, and memorials from sea to shining sea. With an engaging mix of history and contemporary reporting, Carlson explores the death stories of our greatest leaders, and shows that the ways we memorialize our presidents reveal as much about us as they do about the men themselves.
About the Author
---
Brady Carlson is a reporter and the on-air host of NPR's Weekend Edition for New Hampshire Public Radio. He lives in New Hampshire with his wife and children.
Praise For…
---
[An] amusing survey of presidential death and remembrance.
— Kate Tuttle - Boston Globe

Brady is an exuberant guide to presidential wishes, myths, and monuments, both official and forgotten, and what dead presidents reveal about ourselves, our history, and how we imagine our past and the future.
— Virginia Prescott - New Hampshire Public Radio

Dead presidents haven't been this surprising, entertaining, and even funny since my eighth-grade classmates and I saw animatronic Lincoln whirr to life or, later, when I voted for failed San Francisco mayoral candidate Jello Biafra.
— Jack Hitt

Lots of books explain how tough the presidents have it when they are alive—scandals, impeachments, gray hair—but here at last is a terrific investigation of the post-life presidency, a rollicking but always thoughtful exploration of the after-the-White-House whereabouts of the forever former chief executives. Brady Carlson is the perfect road-trip companion, smart and good-hearted, a combination that we can only hope for in presidents, alive or dead.
— Robert Sullivan

The funniest and most entertaining book about death you'll read this year—and my favorite book about corpses since Mary Roach's Stiff. Plus, I learned a ton about our commanders-in-chief, many of whose lives got much more interesting after they stopped breathing.

— A. J. Jacobs

Thoroughly enjoyable.
— Booklist

A spirited debut…A brisk, lighthearted travelogue with an exuberant guide.
— Kirkus Reviews