Pillar of Sand: Can the Irrigation Miracle Last? (Paperback)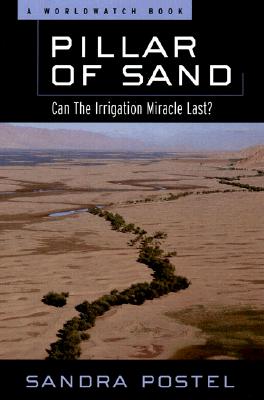 $23.95

In stock with our warehouse--usually ships within 1-7 days. May or may not be in stock at Room.
Description
---
The overriding lesson from history is that most irrigation-based civilizations fail. As we enter the third millennium the question arises: Will ours be any different?
For 6,000 years, irrigation has ranked among the most powerful tools of human advancement. The story of settled agriculture, the growth of cities, and the rise of early empires is, to no small degree, a story of controlling water to make the land more prosperous and habitable.
Pillar of Sand
examines the history, challenges, and pitfalls of irrigated agriculture — from ancient Egypt and Mesopotamia to twentieth-century India and the United States. By unmasking the risks faced by irrigation-based societies — including water scarcity, soil salinization, and conflicts over rivers — water specialist Sandra Postel connects the lessons of the past with the challenge of making irrigation thrive into the twenty-first century and beyond. Protecting rivers and vital ecosystems as the world aims to feed 8 billion people will require a doubling of water productivity — getting twice as much benefit from each gallon removed from rivers, lakes, and aquifers.
Pillar of Sand
points the way toward managing the growing competition for scarce water. And it lays out a strategy for correcting a startling flaw of the modern irrigation age — its failure to better the lives of the majority of the world's poorest farmers.
About the Author
---
Sandra Postel lives in Amherst, Massachusetts, where she directs the Global Water Policy Project. She is a Pew Fellow in Conservation and the Environment and a former vice president for research at the Worldwatch Institute. Her previous book, Last Oasis, now appears in eight languages and was the basis for a PBS television documentary.