Brazil: A Biography (Paperback)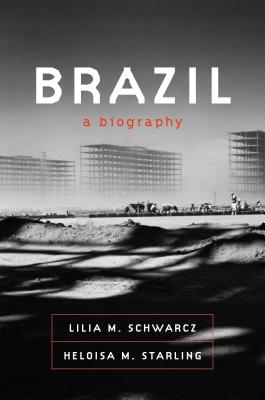 $25.00

In stock with our warehouse--usually ships within 1-7 days. May or may not be in stock at Room.
All sales of this book are final--it is print on demand and may take up to 3 weeks to arrive.
Description
---
A sweeping and absorbing biography of Brazil, from the sixteenth century to the present

For many Americans, Brazil is a land of contradictions: vast natural resources and entrenched corruption; extraordinary wealth and grinding poverty; beautiful beaches and violence-torn favelas. Brazil occupies a vivid place in the American imagination, and yet it remains largely unknown.

In an extraordinary journey that spans five hundred years, from European colonization to the 2016 Summer Olympics, Lilia M. Schwarcz and Heloisa M. Starling's Brazil offers a rich, dramatic history of this complex country. The authors not only reconstruct the epic story of the nation but follow the shifting byways of food, art, and popular culture; the plights of minorities; and the ups and downs of economic cycles. Drawing on a range of original scholarship in history, anthropology, political science, and economics, Schwarcz and Starling reveal a long process of unfinished social, political, and economic progress and struggle, a story in which the troubled legacy of the mixing of races and postcolonial political dysfunction persist to this day.
About the Author
---
Lilia M. Schwarcz was born in 1957 in São Paulo, Brazil. She is a professor of anthropology at the University of São Paulo, a visiting professor in the Department of Spanish and Portuguese Languages and Cultures and the Program in Latin American Studies at Princeton University, and the author of The Emperor's Beard and The Spectacle of the Races.

Heloisa M. Starling is a professor of history at the Universidade Federal de Minas Gerais and the author of Memories of Brazil and The Lords of Gerais.
Praise For…
---
The Times (UK) Best Books of 2018 • Financial Times Best Books of 2018

"Detailed and deeply reasoned . . . Illuminating, engrossing, and consistently thoughtful." —Larry Rohter, The New York Review of Books

"Evocative . . . Schwarcz and Starling adopt what they call a biographical approach: an attempt to tell the collective stories of the generations of Brazilians that have lived . . . They achieve this with flair in their rich evocations of colonial and imperial Brazil . . . Rich and absorbing." —Patrick Wilcken, The Times Literary Supplement

"Compelling and insightful . . . One of Schwarcz and Starling's great strengths is their dissection of changing racial identity." —Geoff Dyer, Financial Times

"A thoughtful and profound journey into the soul of Brazil . . . The Brazil that emerges from this book is, indeed, a fascinating, complex, multicolored, contradictory and challenging organism, more like a living being than a political, cultural and geographical entity." —Laurentino Gomes, Folha de São Paulo

"We have been in need of a comprehensive history of Brazil, sensitive and grounded in rigorous research, for some time now; a work that would recognize the advancements of the last five centuries but would also deal frankly with the many obstacles inherent in the building of complete social, political, and racial citizenship. Therefore, this extraordinary tour de force by two of the greatest Brazilian historians in actuality is a very pertinent work." —Kenneth Maxwell, founder of the Brazil Studies Program at Harvard University's David Rockefeller Center for Latin American Studies

"This book is an unauthorized biography of a complex character named Brazil. It skillfully combines various facets of this character that has been formed and transformed through more than five centuries and is still developing as far as the eye can see." —Boris Fausto, author of A Concise History of Brazil

"We are dealing with an unauthorized biography of Brazil, free of rigid methods of interpretation, of officialisms, and of the concern for praise or condemnation. It is a new interpretive narrative, challenging, and molded in transparent language alien to the usual academic jargon. The reader will recognize his country, complete with its lights and shadows, and will feel encouraged to participate in the adventure that is its construction." —José Murilo de Carvalho, author of The Formation of Souls: Imagery of the Republic in Brazil