A Girl Like That (Hardcover)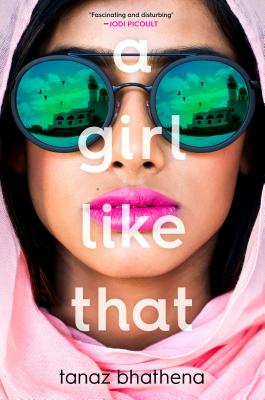 $17.99
This item is out of stock with our warehouse. Some recently published books may be in stock @ Room. Email to check.
Description
---
A Center for the Study of Multicultural Children's Literature Best Book of 2018
A Canadian Children's Book Centre Best Book of 2018
An Ontario Library Association White Pine Award Shortlist Pick
A Globe and Mail Top 100 Book
A Quill & Quire Book of the Year
A Chicago Public Library Best of the Best Book for Teens
A New York Public Library Notable Best Book for Teens
A Times of India Best Fiction Title of 2018

A timeless exploration of high-stakes romance, self-discovery, and the lengths we go to love and be loved.

"Fascinating and disturbing." —Jodi Picoult, #1 New York Times–bestselling author of Small Great Things and Leaving Time

Sixteen-year-old Zarin Wadia is many things: a bright and vivacious student, an orphan, a risk taker. She's also the kind of girl that parents warn their kids to stay away from: a troublemaker whose many romances are the subject of endless gossip at school. You don't want to get involved with a girl like that, they say. So how is it that eighteen-year-old Porus Dumasia has only ever had eyes for her? And how did Zarin and Porus end up dead in a car together, crashed on the side of a highway in Jeddah, Saudi Arabia? When the religious police arrive on the scene, everything everyone thought they knew about Zarin is questioned. And as her story is pieced together, told through multiple perspectives, it becomes clear that she was far more than just a girl like that.

This beautifully written debut novel from Tanaz Bhathena reveals a rich and wonderful new world to readers; tackles complicated issues of race, identity, class, and religion; and paints a portrait of teenage ambition, angst, and alienation that feels both inventive and universal.
About the Author
---
Tanaz Bhathena is an award-winning Zoroastrian author of contemporary and fantasy fiction. Her books include Hunted by the Sky, which won the White Pine Award and the Bapsi Sidhwa Literary Prize, and The Beauty of the Moment, which won the Nautilus Gold Award for Young Adult Fiction. Her acclaimed debut, A Girl Like That, was named a Best Book of the Year by numerous outlets including The Globe and Mail, Seventeen, and The Times of India. Born in India and raised in Saudi Arabia and Canada, Tanaz lives in Mississauga, Ontario, with her family.
Praise For…
---
"Bhathena makes an impressive debut with this eye-opening novel . . . Should spur heated discussions about sexist double standards and the ways societies restrict, control, and punish women and girls." —Publishers Weekly, starred review

"Bhathena's lithe prose effortlessly wends between past and present . . . A powerful debut." —School Library Journal, starred review

"Featuring a diverse cast of Arab and South Asian characters of various classes and faiths, the story is a gripping and nuanced portrait of how teens, both boys and girls, react to patriarchy. . .a fast-paced, fascinating read about a community rarely seen in young adult novels in the West. A refreshingly nuanced narrative about gender in the Middle East." —Kirkus Reviews

"Shines a light on a girl caught between global modernity and traditional mores." —Bulletin of the Center for Children's Books

"With her debut novel, written in a chorus of voices, Bhathena enters the YA scene with a bang, writing complicated characters with mastery and nuance . . . Bhathena writes her elegant, lyrical sentences with command, and though there's certainly tragedy in Zarin's haunting story, there's plenty of hope, too." —Booklist

"A Girl Like That is unlike any YA book I've ever read: a fascinating and disturbing glance into the gender discrimination and double-standards as seen through the eyes of a teenage girl in Saudi Arabia. It raised awareness for me, and is certain to inspire discussion and raise questions about equality, justice, and basic human rights." —Jodi Picoult, #1 NYT Bestselling Author of Small Great Things and Leaving Time

"Tanaz Bhathena has a rare ability to take a setting that would be unfamiliar to many and make it so instantly and profoundly relatable. This is a shimmering, glowing, radiant novel." —Jeff Zentner, Morris Award-winning author of The Serpent King

"Vivid, intricately woven, and wholly immersive, A Girl Like That is a debut that will leave you both haunted and hopeful. Tanaz Bhathena is masterful at writing complicated girls and the people in their orbits." —Laurie Elizabeth Flynn, author of Firsts

"Masterfully constructed and gorgeously written, A Girl Like That is both a page-turner about a ferocious girl fighting the twisted expectations of both family and culture, and a thoughtful meditation on the pain that weighs us down, and the love that lifts us up." —Laura Ruby, Printz Award-winning author of Bone Gap