The Great Forgetting: A Novel (Hardcover)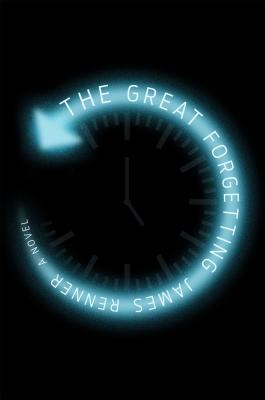 Description
---
MAYBE THE CONSPIRACY THEORISTS ARE ONTO SOMETHING. What if fluoride is a sinister plot to alter our minds? What if there's an extensive network of tunnels running under the United States? And what really happened to Malaysia Airlines Flight 370?
In The Man from Primrose Lane, James Renner fused time-travel adventures with serial-killer thrillers, producing what the Huffington Post called "a superbly crazy and imaginative story." Now, in The Great Forgetting, he blends science fiction and conspiracy thrillers with a touch of pure fantasy, and the result is just as crazy and imaginative.
Jack Felter, a history teacher, returns home to bucolic Franklin Mills, Ohio, to care for his father, a retired pilot who suffers from dementia and is quickly losing his memory. Jack would love to forget about Franklin Mills, and about Sam, the girl he fell in love with, who ran off with his best friend, Tony. Except Tony has gone missing.
Soon Jack is pulled into the search for Tony, but the only one who seems to know anything is Tony's last patient as a psychologist, a paranoid boy named Cole. Jack must team up with Cole to follow Tony's trail—and maybe save the world. Their journey will lead them to Manhattan, then to secret facilities buried under the Catskills, and eventually to a forgotten island in the Pacific—the final destination of Malaysia Airlines Flight 370.
When Jack learns the details about the program known as the Great Forgetting, he's faced with a timeless question: Is it better to forget our greatest mistakes—or to remember, so that they are never repeated?
About the Author
---
JAMES RENNER is the author of The Serial Killer's Apprentice and several other works of nonfiction. His true crime stories have appeared in The Best American Crime Writing anthology, as well the Cleveland Scene and Cracked.com. His method of using social media to solve cold cases was the subject of a CNN profile, in 2015. He has also written two novels, The Man from Primrose Lane and The Great Forgetting. He lives in Akron with his wife and children.
Praise For…
---
PRAISE FOR THE GREAT FORGETTING
"The Great Forgetting is blasphemous, riveting, insane, and glorious." —Andy Howell, astrophysicist
"Renner is skilled at constructing intricate puzzles in his books . . . Here the author makes the most outlandish conspiracies plausible not only to his protagonist but to readers as well . . . The plot might be over the top, but it's a fun ride." —Library Journal
"Renner weaves conceivable means and motive through a variety of conspiracy theories and a reimagined reality to create a unique blend of genres. Anything but predictable, this meandering but suspenseful tale will certainly keep readers guessing." —Courtney Ophoff, Booklist
"A fascinating concept . . . worth the read." —Kirkus Reviews
"Packed with thrills." —Publishers Weekly

"A lost friend, a mysterious Pacific island and an evil conspiracy come together in strange ways in Renner's sci-fi/conspiracy thriller/fantasy novel . . . A tale you won't forget." —New York Post

PRAISE FOR THE MAN FROM PRIMROSE LANE
"Ambitious and innovative . . . If you like your fiction tidy and predictable, look elsewhere." —Patrick Anderson, The Washington Post
"Fascinating and unpredictable, with shades of Stephen King and H. P. Lovecraft as well as Douglas Adams, [The Man from Primrose Lane] never loses touch with the human story of loss, guilt and fate that is at its core." —Laura Wilson, The Guardian
"The Man from Primrose Lane barrels along, fueled by Renner's addictive storytelling . . . It's quite the interesting ride." —Robin Vidimos, The Denver Post
"[The Man from Primrose Lane] features superbly drawn characters and escalates into a genre-bending narrative (noir, sci-fi, and more) of thrills and twists. A great choice for readers who enjoyed Tana French's In the Woods or any work by Philip K. Dick." —Library Journal
"Brilliantly intricate . . . [with a] fantastic finish [and] compelling, interesting characters . . . I couldn't put [The Man from Primrose Lane] down." —Jessica Strider, SF Signal