Ancestory: The Mystery and Majesty of Ancient Cave Art (Hardcover)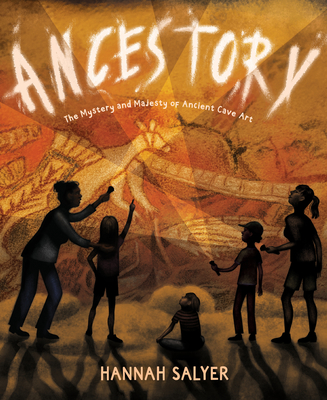 $19.99

In stock with our warehouse--usually ships within 1-7 days. May or may not be in stock at Room.
Description
---
★ "Vivid . . . mesmerizing . . . intriguing." —Kirkus Reviews (starred review)
 ★ "Breathtaking illustrations capture the beauty and power of prehistoric artwork with remarkable precision." —ALA Booklist (starred review)
★ "Visually stunning. A fascinating look at a still-unfurling human history."—Publishers Weekly (starred review)
This striking nonfiction picture book investigates who created ancient wall art that's been discovered around the world and why—the exact answers may be out of reach, but the investigation is half the fun. Complete with extensive back matter, including a bonus double foldout gatefold, Ancestory is perfect company for pictorial nonfiction by Jason Chin and Candace Fleming.
Around the world, our ancient ancestors' mysterious art is left behind on cave walls, in rainforests, and with ink made from charcoal and crushed clay. These people told their stories in magnificent drawings that still speak to us today, echoing across generations.
In her own stunning artwork that features the deserts of North America to the caves of Papua New Guinea, Hannah Salyer showcases ancient rock paintings, drawings, and etchings and invites us to add to the ongoing story—our ancestory.
A winning combo of art and science.
Curriculum tie-in potential to prehistory, art, anthropology, and geography.
Stunning artwork and design.
Robust back matter includes world map with keyed rock art sites, author's note, info about the Lascaux Caves, glossary, and timeline.
Read more books by Hannah Salyer such as Packs: Strength in Numbers.
About the Author
---
Hannah Salyer is a debut illustrator who lives and works in Brooklyn. She graduated from the Communications Design Department at Pratt Institute. In her free time she can be found playing with clay, cutting up paper, or burying her nose in different books.
www.hannahsalyer.com
Instagram: @h.salyer
 
Praise For…
---
ANCESTORY: ★ "Vivid . . . mesmerizing . . . intriguing . . . How extraordinary that ancient ancestors call out to us from the rocks we see all around. Excellent explanatory backmatter concludes this fascinating book." — Kirkus Reviews (starred review)
ANCESTORY: ★ "Breathtaking illustrations capture the beauty and power of prehistoric artwork with remarkable precision. This luminous picture book about humanity's shared stories is full of discoveries." — Booklist (starred review)
ANCESTORY: ★ "Visually stunning. A fascinating look at a still-unfurling human history."
— Publishers Weekly (starred review)
ANCESTORY: "An effective, efficient celebration of the human need to tell stories through art." — Horn Book Magazine
ANCESTORY: "In this informative picture book, Salyer uses brilliant images to present the "history" found in rocks and cave art, making a connection between ancient artists and creators in modern times. A lush and vibrant picture book which will leave readers wanting to know more." — Publishers Weekly
PACKS: STRENGTH IN NUMBERS: "Showing how different animals benefit from living and working in groups, Salyer's debut is a great example of the inventiveness possible in a nonfiction picture book." — New York Times Book Review
PACKS: STRENGTH IN NUMBERS: "With supple, richly colored illustrations and enthusiastic text, Hannah Salyer draws readers... into the beauty and variety of wild creatures." — Wall Street Journal
PACKS: STRENGTH IN NUMBERS: ★ "[An] uplifting, lively picture book that details the various ways a community structure helps a species thrive and survive.... Part natural science, part deep ecology, wholly captivating." — Kirkus Reviews (starred review)
PACKS: STRENGTH IN NUMBERS: ★ "A must-purchase for every collection. Salyer offers a beautiful look at Earth's herding creatures."  — School Library Journal (starred review)