Respect: The Life of Aretha Franklin (Paperback)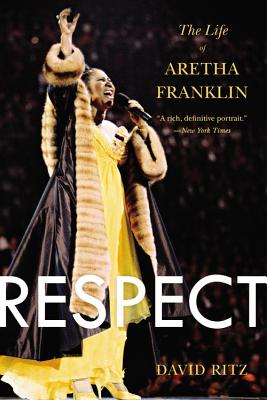 $19.99
Usually Ships in 1-5 Days
Description
---
The definitive biography of the Queen of Soul from acclaimed music writer David Ritz, hailed by Rolling Stone as "a remarkably complex portrait of Aretha Franklin's music and her tumultuous life." 

Aretha Franklin began life as the golden daughter of a progressive and promiscuous Baptist preacher. Raised without her mother, she was a gospel prodigy who gave birth to two sons in her teens and left them and her native Detroit for New York, where she struggled to find her true voice. It was not until 1967, when a white Jewish producer insisted she return to her gospel-soul roots, that fame and fortune finally came via "Respect" and a rapidfire string of hits. She has evolved ever since, amidst personal tragedy, surprise Grammy performances, and career reinventions.

Again and again, Aretha stubbornly finds a way to triumph over troubles, even as they continue to build. Her hold on the crown is tenacious, and in Respect, David Ritz gives us the definitive life of one of the greatest talents in all American culture.

"Comprehensive and illuminating." --USA Today
About the Author
---
David Ritz is the only four-time winner of the Gleason Music Book Award and won the 2013 ASCAP Timothy White award for outstanding musical biography for his book with Buddy Guy. With Marvin Gaye, he also cowrote the song "Sexual Healing". He lives in Los Angeles with his wife.
Praise For…
---
"An honest and genuinely respectful portrait of a true diva by a writer who feels the power of her art."
—
Kirkus Reviews (starred review)
"Ritz's intimate and elegant voice steps from behind the veil of the ghostwriter to tell a tale of genius, dysfunction and blind ambition, describing a world of triumph and tragedy of near mythic proportions. A great read and a really heroic work of biography -- honest, loving, no holds barred."
—
Ben Sidran, author of There Was a Fire
"The monumental biography we've been waiting for of Lady Soul, our greatest soul singer, from the also very great David Ritz, confidante to an entire generation of soul stars -- Ray, Smokey, B.B., Etta, Marvin, etcetera. He is The Man. This is The Book."
—
Joel Selvin, author of Here Comes the Night: The Dark Soul of Bert Berns and the Dirty Business of R
"This far surpasses David Ritz's landmark study of Marvin Gaye. People will be reading
Respect
generations from now to understand our musical culture. Ritz deserves a lifetime achievement award for "Most Soul Full Account of America's Music."—
Charles Keil, ethnomusicologist, author of Urban Blues
"Only someone who had the complete confidence and trust of Aretha's family and the elite of the Gospel and Rhythm and Blues communities could have gotten this story. An intimate and thorough account of this phenomenal woman's talent and life as only David Ritz could capture."
—
Tommy LiPuma, Grammy-winning producer
"A bumpy and delicious ride.... Read
Respect
with a YouTube-playing device near at hand to experience Aretha in a hundred shades of glorious."—
Claude Peck, Minneapolis Star Tribune