Yotsuba&!, Vol. 8 (Paperback)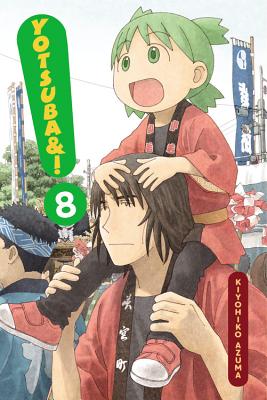 $13.00
Usually Ships in 1-5 Days
Other Books in Series
This is book number 8 in the Yotsuba&! series.
Description
---
The ranch wasn't fun, huh? But maybe festivals will be less funner?! (Yotsuba's playing opposites, ha-ha!) Yotsuba got uninvited to Fuuka's school for a culr...a clart...a cultural festival! And she didn't promise Yotsuba there wouldn't be CAKE! Yotsuba doesn't want a cake as biiiiiig as Jumbo, nope!! You wouldn't either, now would you?! Ohhh! And then, and then! There ISN'T gonna be a great big festival for the whole town to go to! And Yotsuba isn't gonna work hard and help out there with Ena and Fuuka, nuh-uh! Not even for candy, nooooo way!
About the Author
---
Kiyohiko Azuma is the bestselling creator of AZUMANGA DAIOH and the critically acclaimed YOTSUBA&! which won the Excellence Prize in the manga category at the Japan Media Arts Festival in 2006. The series was also nominated for an Eisner Award in the U.S. in 2008 and has been a regular New York Times bestseller.