Point of Dreams (Hardcover)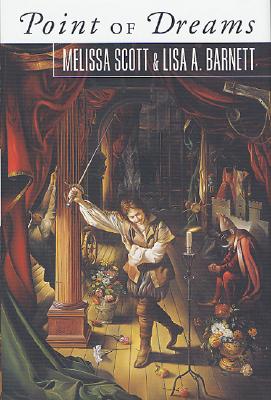 Description
---
The city of Astreiant has gone crazy with enthusiasm for a new play, The Drowned Island, a lurid farrago of melodrama and innuendo. Pointsman Nicolas Rathe is not amused, however, at a real dead body on stage and must investigate. A string of murders follow, perhaps related to the politically important masque that is to play on that same stage. Rathe must once again recruit the help of his soldier lover, Philip Eslingen, whose knowledge of actors and the stage, and of the depths of human perversity and violence, blends well with Rathe's own hard-won experience with human greed and magical mayhem.

Their task is complicated by the season, for it is the time of year when the spirits of the dead haunt the city and influence everyone, and also by the change in their relationship when the loss of Philip's job forces him to move in with Nicolas. Mystery, political intrigue, floral magic, astrology, and romance--both theatrical and personal-- combine to make this a compelling read.
About the Author
---
Lisa Barnett and Melissa Scott live in Portsmouth, New Hampshire.
Praise For…
---
"Alchemy, herbal magic, and mystery work together to create a fascinating and exotic tale of fantasy intrigue."-Library Journal

"An unusual and successful blend of fantasy and mystery. . . . Familiarity with the previous books in the series isn't necessary, as the authors provide just the right amount of background on Astreiant for readers to get their bearings. . . . A page-turner that is sure to win them new fans." - Publishers Weekly

"A fantasy of manners, a mystery, and a swashbuckler all at the same time. Through it all it maintains an almost Shakespearian sensibility, infused with the spirit of the theater where much of the action occurs." - Lambda Book Report