Julie and Romeo (Paperback)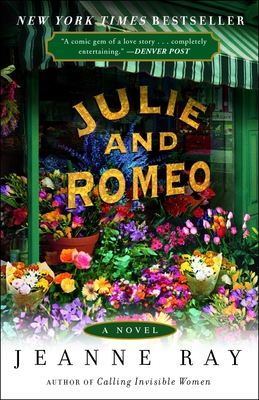 $14.00
Usually Ships in 1-5 Days
Description
---
Romeo Cacciamani and Julie Roseman are rival florists whose families have hated each other for as long as anyone can remember, yet no one can remember why. When the two meet at a small business owners' seminar, an intense and unwavering attraction blooms between them. Unsure of what fate has in store, but deeply in love, Julie and Romeo are not about to let something as silly as a generations-long feud stand in their way. That is, until Romeo's octogenarian mother, Julie's meddling ex-husband, and a cast of grown Cacciamani and Roseman children begin to intervene with a passionate hatred that matches that of the Montagues and Capulets.
A love story for the ages - all ages -
Julie and Romeo
is a stunning novel of star-crossed love finally found, threatened by family, but with a profound and modern finale of delicious proportion.
About the Author
---
JEANNE RAY is a nurse living in Nashville. She is the mother of the novelist Ann Patchett. This is her first novel. From the Hardcover edition.
Praise For…
---
"At last, someone has written a love story for and about grown-ups!  And that someone is a marvelous new writer named Jeanne Ray, whose contemporary take on old rivalries, star-crossed passions, and clandestine intrigues charts a fresh, funny, exquisitely plotted tale of, well, Shakespearean proportions. Julie and Romeo is absolutely delicious. A smart, sexy celebration of the timeless nature of romance."
—A. Manette Ansay, author of Vinegar Hill and Midnight Champagne

"Love and desire will not be denied in this lighthearted inversion of a classic story. Filled with the delicate sweetness of fresh flowers and new love, Julie and Romeo is a smart, funny, touching book. Where has Jeanne Ray been hiding all these years?"
—Alison McGhee, author of Shadow Baby