The Divorce Colony: How Women Revolutionized Marriage and Found Freedom on the American Frontier (Hardcover)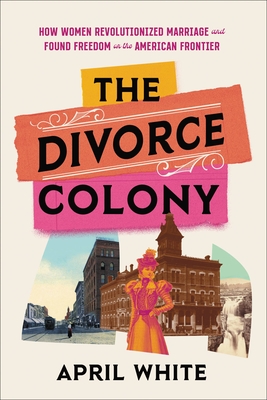 $30.00

In stock with our warehouse--usually ships within 1-7 days. May or may not be in stock at Room.
Description
---
**SMITHSONIAN MAGAZINE, "10 BEST HISTORY BOOKS OF 2022"**
**AMAZON, "BEST BOOK OF THE MONTH (Nonfiction)"**
**APPLE, "BEST BOOK OF THE MONTH"**

From a historian and senior editor at Atlas Obscura, a fascinating account of the daring nineteenth-century women who moved to South Dakota to divorce their husbands and start living on their own terms
For a woman traveling without her husband in the late nineteenth century, there was only one reason to take the train all the way to Sioux Falls, South Dakota, one sure to garner disapproval from fellow passengers. On the American frontier, the new state offered a tempting freedom often difficult to obtain elsewhere: divorce.
With the laxest divorce laws in the country, five railroad lines, and the finest hotel for hundreds of miles, the small city became the unexpected headquarters for unhappy spouses—infamous around the world as The Divorce Colony. These society divorcees put Sioux Falls at the center of a heated national debate over the future of American marriage. As clashes mounted in the country's gossip columns, church halls, courtrooms and even the White House, the women caught in the crosshairs in Sioux Falls geared up for a fight they didn't go looking for, a fight that was the only path to their freedom.
In The Divorce Colony, writer and historian April White unveils the incredible social, political, and personal dramas that unfolded in Sioux Falls and reverberated around the country through the stories of four very different women: Maggie De Stuers, a descendent of the influential New York Astors whose divorce captivated the world; Mary Nevins Blaine, a daughter-in-law to a presidential hopeful with a vendetta against her meddling mother-in-law; Blanche Molineux, an aspiring actress escaping a husband she believed to be a murderer; and Flora Bigelow Dodge, a vivacious woman determined, against all odds, to obtain a "dignified" divorce.
Entertaining, enlightening, and utterly feminist, The Divorce Colony is a rich, deeply researched tapestry of social history and human drama that reads like a novel. Amidst salacious newspaper headlines, juicy court documents, and high-profile cameos from the era's most well-known players, this story lays bare the journey of the turn-of-the-century socialites who took their lives into their own hands and reshaped the country's attitudes about marriage and divorce.
About the Author
---
April White is a senior writer and editor at Atlas Obscura. She previously worked as an editor at Smithsonian Magazine. She holds a master's degree in history and her work has appeared in publications including the Washington Post, The Atavist Magazine, and JSTOR Daily, where she wrote a regular column on the history of food,. She lives in Washington, DC.
Praise For…
---
**Smithsonian Magazine, "10 Best History Books of 2022"**

**Library Journal, "Best Books of 2022"**

**Washingtonian, "Best Books of 2022"**

**Mental Floss, "Best Books of 2022"**

Apple, "Best Books of the Year So Far" (2022),
Apple, "Best Books of the Month" (June 2022)

Amazon, "Best Books of the Month" in Nonfiction (June 2022)Booklist, "Book Buzz: Top Book-Group Picks for Adults From PLA 2022"

Philadelphia Inquirer, "Best New Books to Read in June"

Arlington Magazine, "10 Books to Read in June"

The Everygirl, "The Most Anticipated Books of Summer 2022"

Dakota News Now, "Popular local books to add to your must-read list"
"An entertaining and edifying account of the divorce industry that emerged in Sioux Falls."—
Wall Street Journal
"Filled with lurid details from contemporary newspapers, which breathlessly covered the most salacious divorce cases, the book cleverly examines how these bids for marital freedom reflected broader societal changes in Gilded Age America."—
Smithsonian Magazine
"White's history of the Sioux Falls divorce colony is narrated energetically... A reminder, bright and sparkling for those who need it, that when endings are out of reach, so too are new beginnings."—
New Republic
"April White's riveting, proudly feminist book offers everything you'd expect from a rousing historical drama, but it's entirely true... White vividly and entertainingly reconstructs a largely forgotten but vital chapter of American history."—
Mental Floss
"It's essential feminist history. In White's telling, it's also a gossipy story of misogyny, millionaires, and murder."—
New York Daily News
"Through well-documented research, White melds the changing stances within the worlds of politics, religion, the courts and the growing nation's social culture, all of which were moving slowly, incrementally, more tolerant of necessary divorce."—
Star Tribune
"White's book is as readable as her research is thorough. Her writing style is so engrossing that the book could be historical fiction, [even though] it is not."—
The Sun
"A fascinating read, and eerily pertinent to the rights of women today."—
Historical Novel Society
"The Divorce Colony delivers a delicious, cinematic tale of real-life scandal, suspense, and above all else, survival. It's beautifully written, fiercely feminist, and best of all, a true page-turner from start to finish. It's a story I wish I had written."
—
Abbott Kahler
,
New York Times bestselling author (as Karen Abbott) of The Ghosts of Eden Park
"For those out there who have an abiding fascination with nineteenth-century railways, with matters concerning sex, scandal, divorce, exile, and refuge, with the Frontier and the prairies—for anyone who would fain meld Peyton Place with West by Northwest and The Shining,  April White has done us all a great favor.  I loved every word of this most surprising book."
—
Simon Winchester
,
New York Times bestselling author of The Professor and the Madman and The Men Who United the States
"Until I read April White's remarkable book, The Divorce Colony, I had not thought of women seeking to leave marriages in the 19th century as human rights pioneers. But this story—vivid, compelling, infuriating, inspiring—changed my mind. And I have no doubt, it will change yours, too."
—
Deborah Blum
,
New York Times bestselling author of The Poisoner's Handbook: Murder and the Birth of Forensic Medicine in Jazz-Age New York
"The Divorce Colony paints a carefully-researched portrait of four women at the turn of the 20th century who had had enough. White's colorful portrayal of these brave divorcees—conjured before our eyes through an impressive deep dive into the archives—reminds us of the distance, both literal and figurative, that women have travelled to uncouple and regain their freedom. A fascinating read!"
—
Paulina Bren
,
Ph.D., award-winning author of The Barbizon: The Hotel That Set Women Free
"Unearthing a hidden gem previously lost to history, April White weaves impeccable research and elegant prose into a thought-provoking page turner. The Divorce Colony is an irresistible work of narrative nonfiction."
—
Matthew Pearl
,
New York Times bestselling author of The Dante Club and The Taking of Jemima Boone
"Start
The Divorce Colony
and you'll have a hard time leaving."—
Post Bulletin
"Lively."—
Argus Leader
"[A] sparkling account... White's vivid character sketches and fluid storytelling buttress her argument that by seeking divorce, these women helped to democratize marriage."—
Publisher's Weekly
"Perfect for historians, readers of women's issues, and historical novel lovers."—
The North Platte Telegraph
"[An] absorbing, thoroughly researched account... White effectively humanizes her subjects while remaining faithful to telling nothing but the fascinating truth."—
Kirkus
"A valuable and intriguing contribution to
American social history."—
Booklist
"In April White's hands, this slice of Gilded Age history about women who headed west to states with more lenient divorce laws is entertaining and enlightening."—
BookPage
"Readers of this book will find that it is not just about divorce. It is about American social changes that have affected all of us."—
Watertown Public Opinion