Tales from the Borderlands: Making and Unmaking the Galician Past (Hardcover)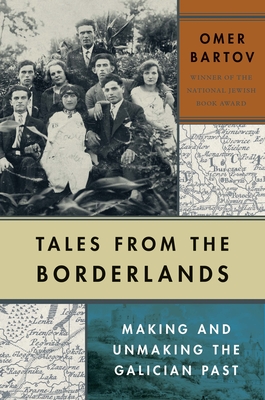 $30.00
This item is out of stock with our warehouse. Some recently published books may be in stock @ Room. Email to check.
Description
---
The story of the diverse communities of Eastern Europe's borderlands in the centuries prior to World War II
 
"A powerful combination of history and personal memoir. . . . A richly contextual, skillfully woven historical study."—Kirkus Reviews (starred review)
 
Focusing on the former province of Galicia, this book tells the story of Europe's eastern borderlands, stretching from the Baltic to the Balkans, through the eyes of the diverse communities of migrants who settled there for centuries and were murdered or forcibly removed from the borderlands in the course of World War II and its aftermath. Omer Bartov explores the fates and hopes, dreams and disillusionment of the people who lived there, and, through the stories they told about themselves, reconstructs who they were, where they came from, and where they were heading. It was on the borderlands that the expanding great empires—German, Austro-Hungarian, Russian, and Ottoman—overlapped, clashed, and disintegrated. The civilization of these borderlands was a mix of multiple cultures, languages, ethnic groups, religions, and nations that similarly overlapped and clashed. The borderlands became the cradle of modernity. Looking back at it tells us where we came from.
About the Author
---
Omer Bartov is the John P. Birkelund Distinguished Professor of European History at Brown University. He is the author of Anatomy of a Genocide: The Life and Death of a Town Called Buczacz.
Praise For…
---
"A powerful combination of history and personal memoir. . . . A richly contextual, skillfully woven historical study."—Kirkus Reviews (starred review)

"A rich, compelling narrative of Jewish experiences in Galicia. . . . Perhaps most poignant is Bartov's concluding focus on his family's 20th-century migration out of the region."—S. G. Jug, Choice

"This remarkable and moving book tells, on the basis of first-person accounts, the story of the emergence, development and destruction of the multi-ethnic and multi-confessional world of East Galicia. It is essential reading for all those interested in inter-ethnic conflict and in the way nationalism has come to dominate the modern world."—Antony Polonsky, Brandeis University

"A powerful and moving evocation of Jewish life and history in Galicia. The narrative elegantly intertwines history, legend, literature, and personal reminiscences, together with Bartov's powerful observations. It is a poignant commemoration of an erased civilization—the annihilated Jewish communities of the East European borderlands."—Saul Friedlander, author of Franz Kafka: The Poet of Shame and Guilt

"A deeply personal, learned and literary coda to Bartov's studies of Buczacz. Beautifully written and steeped in stories from Galician borderlands and Eretz Israel—a masterful achievement."—Jan T. Gross, Princeton University

"The world of Galician Jewry is, as Omer Bartov states, 'irretrievably lost.' Yet his book is more than an elegy. A work of erudition and personal revelation, it brings the diverse voices of the Galitzianers back to life."—John-Paul Himka, University of Alberta