Dry Land (Paperback)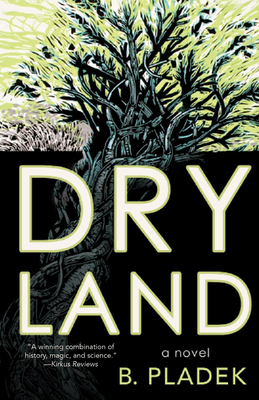 $18.95

In stock with our warehouse--usually ships within 1-7 days. May or may not be in stock at Room.
Description
---
As the Great War rages across Europe, Rand Brandt, an idealistic young forester in the northwoods of Wisconsin, discovers a remarkable gift: his touch can grow any plant in minutes. Overjoyed, he dreams of devoting his life to conservation, restoring to its former glory a landscape devastated by lumbering. At night, Rand tests his powers, pushing his physical limits and revealing his secret only to his lover, Gabriel. But his frequent absences from camp don't go unnoticed, and it isn't long before Rand is drafted to grow timber for the war effort. Along with Gabriel, he's shipped to France—though the army is a dangerous place for two men in love. 

While at camp, Rand also realizes the true price of his gift: everything he grows withers and dies, leaving the soil empty of all living matter. Horrified, he throws himself into ever more self-destructive trials, buckling under the pressure of so many secrets. In order to survive, he must confront the terrifying possibility that his gift is actually a curse, upending everything he believes about nature, love, and himself.
About the Author
---
B. Pladek is an associate professor of English at Marquette University in Milwaukee. His short fiction has appeared in Strange Horizons, Slate FutureTense Fiction, The Offing, and elsewhere. 
Praise For…
---
"B. Pladek's Dry Land is a quest narrative, seeking forms of renewal for ravaged ecosystems and fraught human relationships. With quiet grace and a fearless gaze toward the entanglement of preservation and destruction, this meditative novel questions both the romance of landscape and the landscape of romance."—Sofia Samatar, author of The White Mosque and A Stranger in Olondria

"A gorgeously imagined, deeply personal story of love and war, of the places we make and the places that make us. But most movingly, Pladek has written an ode to the ordinary magic of our extraordinary world."—Karen Joy Fowler, author of Booth

"In precise, elegant prose, B. Pladek has given us a story set over a hundred years ago but with startling resonance for today. Dry Land is a deeply original novel that deserves attention. I can't remember reading anything quite like it."—Ken Harvey, author of The Book of Casey Adair

"Compelling in its underlying conversation about environmental preservation, this book is rich with well-researched plant knowledge that conveys the delicate balance of ecosystems. A winning combination of history, magic, and science that reiterates the importance of environmental preservation."—Kirkus Reviews

"Moves like a wild river. . . . In this alternate history novel, a gift that promises to restore nature also threatens to destroy a man along with everything and everyone he loves, revealing that redemption may lie in unexpected places."—Foreword Reviews

"The whole book stunned me. I wept, I got lost, I felt renewed. Prickly and beautiful queer nature magic, all the way down."—Laura Sackton

"Rand is not interested in becoming the war hero everyone wants him to be, but he's beguiled by the idea of becoming a savior of nature. These glorious but unreal fantasies come into conflict in the midst of Pladek's lush, evocative descriptions of Wisconsin plant life. As a meditation on our place in the wilderness and our capacity for hubris, Dry Land feels especially relevant."—Charlie Jane Anders, The Washington Post

"Pladek effortlessly marries magical realism with historical fiction, resulting in a wise and tender debut. Introspective, candid, somehow still daring to be hopeful, this novel would be an excellent addition to your bookshelf. This story is for the romantic, the ecologist, the historian, the artist—really, for everyone."—Independent Book Review

"The ecological and the human all intertwine. . . . Dry Land presents complication, difficulty, escape and not-escape. . . . For all his magic, Rand isn't a hero and the plot isn't an extended training montage. It is something much, much closer to life, with all its pain and sense of wonder. . . . This is one of the not-to-miss speculative novels of 2023."—Reckoning