The Body in Bodega Bay: A Nora Barnes and Toby Sandler Mystery (Hardcover)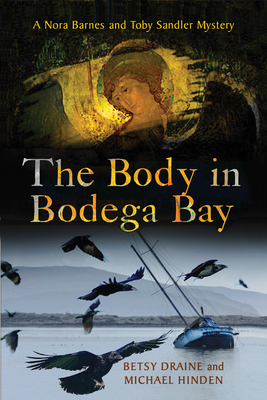 This item is not available to order from Room.
Description
---
Life in Bodega Bay on the rugged, foggy coast of northern California has been pretty quiet since Alfred Hitchcock filmed The Birds there. But antiques dealer Toby Sandler learns that his new business partner Charlie has been found dead on an abandoned boat in the harbor. When the local sheriff discovers that Charlie's newly acquired Hitchcock artifacts and a painting of an angel are missing, he enlists Toby and his wife, Nora Barnes, an art historian, in the investigation.
            Local tales about Hitchcock's famous film, and some digging into the region's past as a Russian outpost, provide Toby and Nora with clues to the existence of a lost masterpiece. Convinced that this forgotten work may hold the key to the murder, Nora and Toby set out to find it. When Nora's trouble-prone sister Angie arrives, events take a surprising turn, leading to the uncanny realm of angel reading and putting Nora and her family in danger. As Nora and Toby investigate matters both criminal and otherworldly, Nora realizes that some mysteries in life may be too deep to solve.
About the Author
---
Betsy Draine and Michael Hinden are coauthors of the mystery novel Murder in Lascaux and of the memoir A Castle in the Backyard: The Dream of a House in France, both published by the University of Wisconsin Press. They also translated and edited The Walnut Cookbook by Jean-Luc Toussaint. They are professors emeriti of English at the University of Wisconsin–Madison.

Praise For…
---
"Nora Barnes and Toby Sandler are back. This crime's solution takes us into the world of Russian icons, the Russian past in Sonoma County, and even into the realm of communications from guardian angels. Murder in Lascaux was an auspicious debut; The Body in Bodega Bay continues the journey. This novel delivers. Grab it and enjoy."—Richard Schwartz, author of The Last Voice You Hear


"The Draine and Hinden writing duo have now done for California's North Coast what their earlier Murder in Lascaux did for France's Perigord: brought it wonderfully—and eerily—to life. You can practically see the fog shrouding the rocky coastline, taste the salt air on your tongue, hear the doleful wail of the foghorns, and smell the welcoming, steaming clam chowder coming from the nearest seafood diner. Throw in a multi-angled murder mystery, a clever solution, and a host of fascinating art lore and you've got a heck of a book. And for film buffs there's all kinds of terrific trivia that you never knew about Hitchcock's The Birds. A winner."—Aaron Elkins, Edgar-winning author of the Gideon Oliver mysteries

"Betsy Draine and Michael Hinden must be having a wonderful time researching and writing their mystery series. It certainly is a lot of fun reading their books."— Capital Times 


"If you're a fan of Alfred Hitchcock's The Birds, you will thoroughly enjoy this murder mystery."—Mystery Scene


"Colorful characters . . . keep the proceedings fresh and unpredictable. . . . The unexpected but satisfying conclusion is worth the wait."—Publishers Weekly