Wisconsin Talk: Linguistic Diversity in the Badger State (Languages and Folklore of Upper Midwest) (Paperback)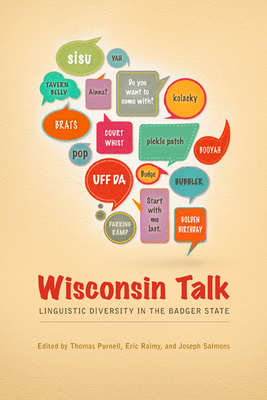 $24.95
This item is out of stock with our warehouse. Some recently published books may be in stock @ Room. Email to check.
Description
---
Wisconsin is one of the most linguistically rich places in North America. It has the greatest diversity of American Indian languages east of the Mississippi, including Ojibwe and Menominee from the Algonquian language family, Ho-Chunk from the Siouan family, and Oneida from the Iroquoian family. French place names dot the state's map. German, Norwegian, and Polish—the languages of immigrants in the nineteenth and early twentieth centuries—are still spoken by tens of thousands of people, and the influx of new immigrants speaking Spanish, Hmong, and Somali continues to enrich the state's cultural landscape. These languages and others (Walloon, Cornish, Finnish, Czech, and more) have shaped the kinds of English spoken around the state. Within Wisconsin's borders are found three different major dialects of American English, and despite the influences of mass media and popular culture, they are not merging—they are dramatically diverging.
    An engaging survey for both general readers and language scholars, Wisconsin Talk brings together perspectives from linguistics, history, cultural studies, and geography to illuminate why language matters in our everyday lives. The authors highlight such topics as:
• words distinctive to the state
• how recent and earlier immigrants have negotiated cultural and linguistic challenges
• the diversity of bilingual speakers that enriches our communities
• how maps can convey the stories of language
• the relation of Wisconsin's Indian languages to language loss worldwide.
About the Author
---
Thomas Purnell is associate professor of English at the University of Wisconsin–Madison, and his research examines the interface between phonetics and phonology with a focus on regional pronunciation. Eric Raimy is associate professor of English language and linguistics at the University of Wisconsin–Madison and is coeditor of Contemporary Views on Architecture and Representations in Phonology and Handbook of the Syllable. Joseph Salmons is the Lester W. J. "Smoky" Seifert Professor of Germanic Linguistics at the University of Wisconsin–Madison. He is author of A History of German: What the Past Reveals about Today's Language and executive editor of Diachronica: International Journal for Historical Linguistics.
Praise For…
---
"An outstanding book that will set the standards for books of its kind. At once accessible—indeed, enjoyable—and both original and fully informed."—Michael Adams, editor of American Speech

"The authors' passion for Wisconsin linguistic richness is evident throughout, and readers are likely to come away with a better appreciation for the importance—and fun—of language preservation."—Isthmus 


"Very highly recommended for Wisconsin school, community and academic library Language Studies reference collections and supplemental reading lists."— Midwest Book Review