Last Seen (Felix Pollak Prize in Poetry) (Paperback)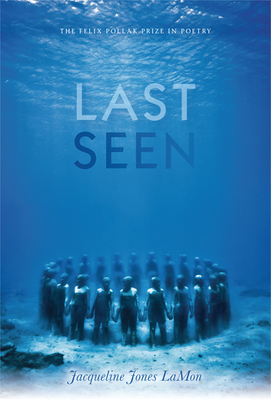 Description
---
Inspired by actual case histories of long-term missing African American children, this provocative and heartrending collection of poems evokes the experience of what it means to be among the missing in contemporary America. This thought-provoking collection of persona poems looks at absence from the standpoint of the witnesses surrounding the void and offers an intimate depiction of those impossible moments of aftermath lived by those who remain accounted for and present. While enabling us to question our own sense of identity, this unique collection of poems reveals the blurred edges of separation between them and us and the impact that the missing have upon our present and future.
Finalist, NAACP Image Awards
About the Author
---
Jacqueline Jones LaMon is associate professor of English and director of the MFA program in creative writing at Adelphi University. She is author of the poetry collection Gravity, U.S.A. and the novel In the Arms of One Who Loves Me. Her poems have appeared in such journals as the Bellevue Literary Review, Crab Orchard Review, Mythium, and RATTLE.
Praise For…
---
"The persons 'last seen' in Jacqueline Jones LaMon's beautifully haunting book include missing children the poet has researched and imagined and a young woman whose apparent leap off the Bay Bridge is at the center of 'The San Francisco Sonnets.' These absences, explored through a variety of formal strategies and peripheral perspectives, are echoed in fragments from the life of an elusive 'you,' and inform even the momentary joys of the abecedarian 'Boy Met Girl' poems. In their powerful tension between absence and presence, between broken narrative and richly detailed lyric, LaMon's poetic sequences put all our assumptions about stability and permanence into question."—Martha Collins, author of Blue Front
"At the heart of Jacqueline Jones LaMon's new collection Last Seen is a haunting series of poems born of the silence tragedy and loss wedges into our lives. With restraint and through a variety of characters, LaMon gives voice to those whose voices have been lost to us, who've left behind only questions and vivid empty spaces the way a boy, dragging his foot, leaves a trace to follow, fleeting as a 'mark in the snow.'"—Natasha Tretheway, author of Native Guard
"The most disturbing poetics of loss is often the most valuable, beautiful, and lethal. Jacqueline Jones LaMon's Last Seen, winner of the 2011 Felix Pollak Prize in Poetry, is a deeply crafted sequence of poems about long-missing African American children in the US. LaMon is a master of the persona poem, where the voices of children, parents, abductors, and friends interact as each tale is revealed. Most poems are built in one single, long stanza, which adds to the tension and drama described. The result is a work in which multiple worlds of love and yearning become one large canvas of intimate humanity."—The Bloomsbury Review