Green Travel Guide to Southern Wisconsin: Environmentally and Socially Responsible Travel (Paperback)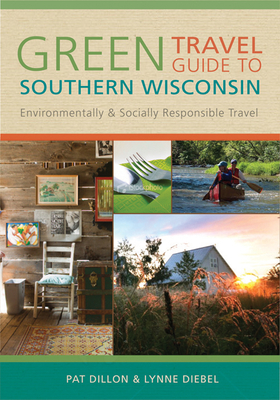 Description
---
Green Travel Guide to Southern Wisconsin surveys the best green restaurants, lodgings, shops, and activities southern Wisconsin has to offer. Dine at independent, locally owned eateries that serve up delicious fare grown and raised by farmers right down the road. Overnight at peaceful inns that sponsor workshops on topics ranging from cheesemaking to sustainability. Scour markets that sell locally foraged mushrooms, berries, and syrups as well as arts and crafts created by local artisans. Bicycle through southern Wisconsin, stopping at small-scale farms where travelers are not only welcome but encouraged to visit.
Honorable Mention, Foreword Magazine's Travel Guidebook of the Year.
About the Author
---
Pat Dillon and Lynne Diebel are independent writers. Dillon formerly wrote a regional travel column and worked in advertising in Milwaukee and Chicago. Diebel previously taught English at Stoughton High School and is coauthor of ABCs Naturally, Paddling Northern Minnesota, and Paddling Southern Minnesota.
Praise For…
---
"More than a guide; it's a great set of stories of the people in towns and cities and their creative approaches to sustainable enterprise. I'm eager to meet these locals over organic food, drink, and trails." —Sherrie Gruder, sustainable design specialist, University of Wisconsin–Extension

"I often feature Wisconsin's treasures on my radio program and think I know a lot about the state's many unique destinations. I was pleasantly surprised to read this great book about green places to visit. It unveiled myriad spots that strive to be environmentally sensitive . . . places I didn't know existed. Throw in some tasty recipes that incorporate local bounty and you have a handy, worthwhile book to make your Wisconsin travel experiences memorable . . . and green!"—Larry Meiller, Wisconsin Public Radio


"Dillon and Diebel encourage you to venture off the main roads and onto the state's many scenic byways to discover some of the best earth-friendly options Wisconsin has to offer.  The Green Travel Guide to Southern Wisconsin will likely take you places you never knew existed, especially if your travels have largely been confined to the interstate."—Wisconsin People and Ideas