The Neighborhood Outfit: Organized Crime in Chicago Heights (Paperback)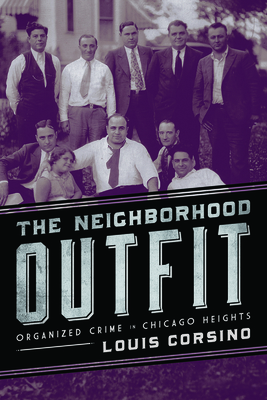 $25.00

In stock with our warehouse--usually ships within 1-7 days. May or may not be in stock at Room.
Description
---
From the slot machine trust of the early 1900s to the prolific Prohibition era bootleggers allied with Al Capone, and for decades beyond, organized crime in Chicago Heights, Illinois, represented a vital component of the Chicago Outfit. Louis Corsino taps interviews, archives, government documents, and his own family's history to tell the story of the Chicago Heights "boys" and their place in the city's Italian American community in the twentieth century.
 
Debunking the popular idea of organized crime as a uniquely Italian enterprise, Corsino delves into the social and cultural forces that contributed to illicit activities. As he shows, discrimination blocked opportunities for Italians' social mobility and the close-knit Italian communities that arose in response to such limits produced a rich supply of social capital Italians used to pursue alternative routes to success that ranged from Italian grocery stores to union organizing to, on occasion, crime.
About the Author
---
Louis Corsino is a professor of sociology at North Central College.
Praise For…
---
"An in-depth historical review and analysis of an important part of organized crime, the "Outfit," in the Cook County, Illinois, suburb of Chicago Heights. This outstanding work of scholarship makes use of popular and scholarly sources, including the author's own family whose roots in the community go back generations. His book is a must for anyone interested in organized crime in Chicago and its environs."
--Howard Abadinsky, author of Organized Crime

"Corsino succeeds in The Neighborhood Outfit, demolishing the essentialist perspective on Italian American participation in organized crime."--Italian American Review

"Louis Corsino provides an in-depth historical review and analysis of an important part of organized crime, the "Outfit," in the Cook County, Illinois, suburb of Chicago Heights. This outstanding work of scholarship makes use of popular and scholarly sources, including the author's own family whose roots in the community go back generations. His book is a must for anyone interested in organized crime in Chicago and its environs."--Howard Abadinsky, author of Organized Crime

"Louis Corsino's book studies recruitment into traditional organized crime. This book focuses on the Chicago Heights Crew, one of the five 'Street Crews' of the Chicago Outfit. While much has been written about the functional aspects of organized crime including its role as a means of social mobility, no one has attempted to explain the horizontal dimensions of recruitment. That is, how a criminal group recruits new members from among its fellow immigrants or poverty class neighbors. Corsino's work provides the most in-depth look at this process to date."--Robert M. Lombardo, author of Organized Crime in Chicago: Beyond the Mafia

"An outstanding work of sociologically informed social history, The Neighborhood Outfit explains to scholars and students what they couldn't learn from The Godfather. Deeply researched, beautifully written and drawing on unique insights shaped by personal experience and immersion in the scholarly literature, this book is both made for the classroom and must reading for anyone interested in knowing how ethnicity has been interwoven with organized crime." --Roger Waldinger, Distinguished Professor of Sociology, UCLA