The Tale of Raw Head and Bloody Bones: A Novel (Paperback)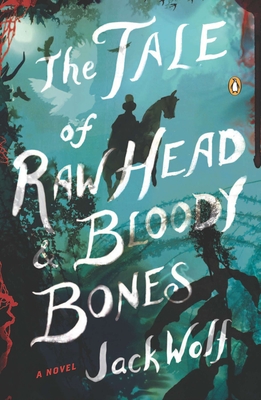 Staff Reviews
---
Jess's Rec: A breakout first novel by author Jack Wolf, this book is equal parts Sleepy Hallow meets American Psycho--- not as far as gore, mind you! (Title non-withstanding) Following 17th century anatomist-in-training Tristan Hart, magic meets the age of reason in a strange love story dripping with sadism, following an unreliable (and seemingly quite mad) narrator. Very memorable!
— From
Wes L's Picks
Description
---
The explosive and controversial debut novel by a major new voice in fiction
Meet Tristan Hart, a brilliant young man of means. The year is 1751, and at the age of twenty he leaves home to study medicine at the great hospital of St. Thomas in London. It will be a momentous year for the intellectually ambitious Mr. Hart, who, in addition to being a student of Locke and Descartes and a promising young physician, is also, alas, psychotic. He is obsessed with the nature of pain and medically preventing it, but—equally strong and much harder to control—is his obsession with causing it. Desperate to understand his deviant desires before they are his undoing, he uses the new tools of the age—reason and science and skepticism—to plumb the depths of his own dark mind.
            Profoundly imaginative, unexpectedly funny, and with a strange but moving love story at its heart, The Tale of Raw Head and Bloody Bones is an oddly beautiful and daring novel about the relationship between the mind and body, sex, madness, pain, and the existence of God.
About the Author
---
Jack Wolf is currently studying for a Ph.D. and is at work on his second novel. He lives in the United Kingdom.
Praise For…
---
"Evokes historical fiction such as Susanna Clarke's Jonathan Strange & Mr Norrell, Andrew Miller's Ingenious Pain, and Peter Ackroyd's Hawksmoor.  The Tale of Raw head and Bloody Bones, Jack Wolf's debut novel, can stand alongside these modern classics.  This is an extraordinarily controlled and artful book."—Financial Times

"Wolf's first novel plays on readers' fears of death, demons, pain, and insanity while challenging us to question our assumptions about love and sex, joy and grief, and reality itself."—Booklist 

 "[A] lively, visceral tale… at times ravaging, revealing, and primeval… 'tis a tale that will make you acutely aware of how madness descends—and inexorably pull you into its clutches."—New York Journal of Books

 "Written in first-person person period language (compleat with capitalized Nouns and idiosyncratic Spelnygs), it's hard to believe this is Wolf's debut novel. The 18th-century pastiche is skilfully executed and wholly absorbing; imagination abounds and the imagery is high-def vivid… Completely engrossing… Highly recommended."
—Historical Novel Society

"Definitely one of the more unique, if not the most unique, fantasy novels of 2013, a welcome change from the more flashy, but less substantial, blockbusters of the genre."—Darkeva's Dark Delights

"Tristan's sadistic flights of fancy make for consciously creepy reading but this knowingly warped tale about a journey into a disturbed psyche offers more than gratuitous horror. Instead, Wolf's sure hand with Hart's arcane voice and intelligent control of material including medical history and strange folklore results in a thrilling tale of transgression"
—Metro (UK)
 
"This gloriously over-egged pudding of a first novel is set in 1750, and crammed with chunks of history, philosophy and folklore ... Wolf is a superb storyteller who sucks the reader into his fascinating imagination."
—The Times (UK)
 
"Thrilling . . . extraordinary . . . Jack Wolf delivers his tale with passion, precision and poetry. Those of strong stomach and vivid imagination will find glittering delights in here."
—The Guardian (UK)
 
 "Tristan Hart...is among the most striking and memorable anti-heroes to have appeared in recent British fiction. "
—Times Literary Supplement
 
"This rollicking mash-up of the scientific and the supernatural, the rational and loony, is by turns funny, moving, delicate and quite horrific. A terrific debut."
—The Daily Mail

"Tristan bears a resemblance to Patrick Suskind's Jean-Baptiste Grenouille, but he is far more complicated and captivating as the protagonist. There's an earnestness that lies beneath his brutish nature, which surfaces unexpectedly and lures the reader into the murky depths of his mental anguish. Wolf's fearless debut confronts opposing forces such as good and evil, knowledge and ignorance, and sanity and madness head-on. The narrative is thick with expectation and keeps the reader on tenterhooks throughout. This clever roller-coaster ride will challenge your reasoning, shake your senses and keep you awake at night."
—welovethisbook.com