Stik (Hardcover)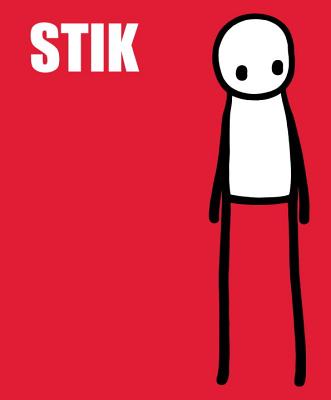 $30.00
Email or call for price.
Description
---
The first collected volume of work from feted street artist Stik, fully illustrated and beautifully presented

"Social change is what art does. I don't know what else there is, to be honest. Social change seems to me the primary function of art. I feel that's my duty. That's why I'm here. That's what art is supposed to do." —Stik
 
Stik first came to notoriety as an underground street artist who painted life-size stick figures during the night around London's East End. As a firm believer in the right to protest, the freedom of speech, and basic human rights, Stik has now painted murals in cities, towns, and villages all over the world, focusing his work in communities that face repression and disenfranchisement.

Having gained an international following, Stik credits his audience with the intelligence to fill in the emotional details of his work, which always consists of just six lines and two dots. Each piece is a meditation.

This is the first collected volume of his work to date. It reveals the political and artistic inspiration behind an emerging voice whose work stands alongside Banksy and Keith Haring among true activists in the street art community.

The first edition includes an exclusive limited edition lithographic print inside the book in either blue or orange.
About the Author
---
Stik is an outsider artist, having never received a higher education. During periods of homelessness, in order to make ends meet, he regularly worked as an artist's life model at the Royal Academy of Art and Central Saint Martin's. It was here that he gained an accidental education in fine art. Stik now travels the world painting giant murals and bringing awareness and aid to the dispossessed and homeless wherever he goes. He lives in London.
Praise For…
---
"As the first volume to explore his now-global repertoire, it's clear that Stik's work is more than just expressive dexterity. As he explains: 'Perhaps it is the simplicity of these figures, just six lines and two dots, that speaks to people from all walks of life.'" —Interview Magazine

"Forget Banksy. The next hot London street artist is Stik, whose stick-figure graffiti tells the story of London's East End neighborhood in the face of gentrification. Stik was homeless when he started painting, squatting in vacant East End buildings with a group of activists who helped him get back on his feet. Now he's a full-time artist, and Stik gives his artfully naive graffiti the full coffee table book treatment." —Vox (A Vox.com Book to Read this Summer)

A Wall Street Journal Summer Eye Candy pick

"An unusual little tall man, this Stik man.Deceptively simple, he expresses profound truths that are anything but. . . . Now comes a handsome tome in red canvas that tells more about this artist who has been staying mum for so long." —Brooklyn Street Art