88 Names: A Novel (Paperback)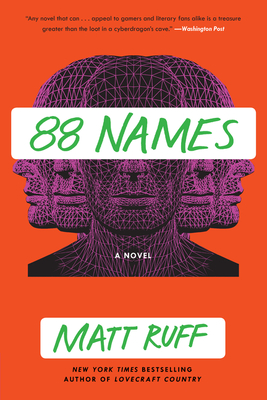 $16.99
This item is out of stock with our warehouse. Some recently published books may be in stock @ Room. Email to check.
Description
---
The critically acclaimed author of Lovecraft Country returns with a thrilling and immersive virtual reality epic—part cyberthriller, part twisted romantic comedy—that transports you to a world where identity is fluid and nothing can be taken at face value.

John Chu is a "sherpa"—a paid guide to online role-playing games like the popular Call to Wizardry. For a fee, he and his crew will provide you with a top-flight character equipped with the best weapons and armor, and take you dragon-slaying in the Realms of Asgarth, hunting rogue starships in the Alpha Sector, or battling hordes of undead in the zombie apocalypse.
Chu's new client, the pseudonymous Mr. Jones, claims to be a "wealthy, famous person" with powerful enemies, and he's offering a ridiculous amount of money for a comprehensive tour of the world of virtual-reality gaming. For Chu, this is a dream assignment, but as the tour gets underway, he begins to suspect that Mr. Jones is really North Korean dictator Kim Jong-un, whose interest in VR gaming has more to do with power than entertainment. As if that weren't enough to deal with, Chu also has to worry about "Ms. Pang," who may or may not be an agent of the People's Republic of China, and his angry ex-girlfriend, Darla Jean Covington, who isn't the type to let an international intrigue get in the way of her own plans for revenge.
What begins as a whirlwind online adventure soon spills over into the real world. Now Chu must use every trick and resource at his disposal to stay one step ahead—because in real life, there is no reset button.
About the Author
---
Matt Ruff is the author of the novels The Destroyer of Worlds, 88 Names, Lovecraft Country, Bad Monkeys, The Mirage, Set This House in Order, Fool on the Hill, and Sewer, Gas & Electric: The Public Works Trilogy. He lives in Seattle, Washington.
Praise For…
---
"Ruff's newest technothriller is an exciting page-turner that delves into the online gaming world and should appeal to both veterans and newbies." — Library Journal
"Ruff remains on a winning streak with this seamless genre hybrid." — Publishers Weekly
"Following in the footsteps of Ernie Cline, who hit the geek gold mine with Ready Player One, Ruff takes his shot at a near-future gaming world. . . . Gamers for life who can pry themselves off the controller will certainly dig this digital-era whodunit."  — Kirkus Reviews
"Ruff's fast-flowing, fascinating narrative is full of amusing topical and pop culture referents without being overburdened by allusiveness. His witty, often snarky dialogue crackles, and every aspect of the gaming experience is sharply rendered and explicated. . . . Any novel that can . . . appeal to gamers and literary fans alike is a treasure greater than the loot in a cyber-dragon's cave."  — Washington Post
"Matt Ruff is one of science fiction and fantasy's most consistently brilliant and innovative authors . . . . [88 Names] moves seamlessly through a series of beautifully rendered, imaginative virtual worlds, and a physical world that is recognizably our own future, while still being madcap in that unmistakably mattruffian way — boingboing.com
"Employing a diverse cast of characters and weaving historical facts with an abundance of pop culture references, Ruff's richly imagined world of next-generation internet is plausible and a bit frightening. The action inside the virtual gaming world is sleek and exciting, but the extrapolation of identity, friendship, and human relationships makes the narrative shine." — Booklist (starred review)