The Luminous Dead: A Novel (Paperback)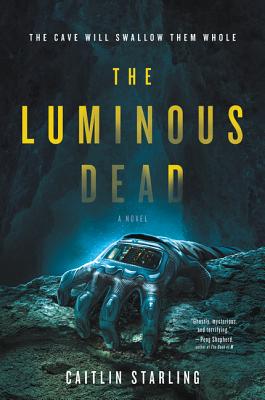 $16.99
Usually Ships in 1-5 Days
Staff Reviews
---
A psychological thriller between two queer women, one exploring a hideously dangerous cave system with the remote guidance of the other. Moral ambiguity, tense survival in an extreme environment, and self-interested characters of suspect motive, this is an edge-of-your-seat fantastically paced thriller you don't want to miss!
— Gretchen L Treu
Ahhhhh! A grim, driven novel of suspense, meticulously plotted, fantastically rendered, and psychologically unnerving. It's rare that such a muscular, embodied sort of survival/adventure story builds such fascinating characters, but I've got Gyre and Em stuck in my head and haven't stopped thinking about this damn book since I finished it. Thrilling, occasionally terrifying, and compelling as a descent into the earth, into grief, into darkness and an unusual story of female characters whose selfishness and ambition aren't redeemed or apologized for by the story. Moral ambiguity, edge-of-your-seat terrifying caving, and unreliable characters whose motivations and needs unspool as Gyre descends. — From Gretchen's Picks
Description
---
Bram Stoker Award nominee for Best First Novel!
"This claustrophobic, horror-leaning tour de force is highly recommended for fans of Jeff VanderMeer's Annihilation and Andy Weir's The Martian." -- Publishers Weekly (starred review)
A thrilling, atmospheric debut with the intensive drive of The Martian and Gravity and the creeping dread of Annihilation, in which a caver on a foreign planet finds herself on a terrifying psychological and emotional journey for survival.

When Gyre Price lied her way into this expedition, she thought she'd be mapping mineral deposits, and that her biggest problems would be cave collapses and gear malfunctions. She also thought that the fat paycheck—enough to get her off-planet and on the trail of her mother—meant she'd get a skilled surface team, monitoring her suit and environment, keeping her safe. Keeping her sane.
Instead, she got Em.
Em sees nothing wrong with controlling Gyre's body with drugs or withholding critical information to "ensure the smooth operation" of her expedition. Em knows all about Gyre's falsified credentials, and has no qualms using them as a leash—and a lash. And Em has secrets, too . . .
As Gyre descends, little inconsistencies—missing supplies, unexpected changes in the route, and, worst of all, shifts in Em's motivations—drive her out of her depths. Lost and disoriented, Gyre finds her sense of control giving way to paranoia and anger. On her own in this mysterious, deadly place, surrounded by darkness and the unknown, Gyre must overcome more than just the dangerous terrain and the Tunneler which calls underground its home if she wants to make it out alive—she must confront the ghosts in her own head.
But how come she can't shake the feeling she's being followed?
About the Author
---
Caitlin Starling is a writer and spreadsheet-wrangler who lives near Portland, Oregon. Equipped with an anthropology degree and an unhealthy interest in the dark and macabre, she writes horror-tinged speculative fiction of all flavors. The Luminous Dead is her first novel.
Praise For…
---
"This claustrophobic, horror-leaning tour de force is highly recommended for fans of Jeff VanderMeer's Annihilation and Andy Weir's The Martian."
— Publishers Weekly (starred review)

"The Luminous Dead, the fantastic horror sci-fi debut from Caitlin Starling [...] is a survival story in the vein of The Martian, with a psychological horror twist."
— B&N Sci-Fi & Fantasy Blog

"Ghostly, mysterious, and terrifying, The Luminous Dead will have you rooted to the spot until the very last page." 
— Peng Shepherd, author of The Book of M

"This is a survival story, a psychological thriller, and some of the best SFnal horror I've ever read. It's a hell of a debut, and I can't wait to see what Starling does next."
— Locus Magazine

"A harrowing, merciless descent into the human psyche. Starling's prose is breathtakingly cinematic and left me without a molecule of spare oxygen. This book will catch you by the ankles and drag you backwards into a terrifying and inescapable reality. Read this one with all the lights on."
— Sarah Gailey, Hugo award-winning author of River of Teeth

"A tense psychological thriller and a gripping survival story that kept me on the edge of my seat the whole way through. It's a dark ride that's worth every step."
— Martha Wells, author of The Murderbot Diaries

"Starling's debut is tense and well-paced, taut and terrifying. This book never lets you (or Gyre) breathe for more than an instant before pushing you further into the frightening unknown. A book you won't want to put down until the resolution arrives."
— Elsa Sjunneson-Henry

"The Luminous Dead managed to be the best sci-fi book coming in 2019. And the best horror novel. And the best queer story. This book is so many things at once, and I cannot wait for readers to discover the terrifying, complex world that Caitlin Starling has created."
— Mark Oshiro, author of Anger is a Gift

"The Luminous Dead dives into the human psyche and our ability for cruelty alongside compassion. Starling crafts a plot tight and gripping, weaves scenes dripping with wonder and terror, and keeps you wondering what's real and what's not until the very last page. Both beautiful and brutal, I loved it."
— K.A. Doore, author of The Perfect Assassin

"An electric mix of The Descent and Gravity, Starling's debut gives us an exciting and terrifying sf adventure set in the dangerous bowels of a distant planet. This story has hidden depths, secrets and mysteries to reveal. Highly recommended from start to finish."
— John Hornor Jacobs, award-winning author of The Sea Dreams it is the Sky

"Starling's debut gives us an exciting and terrifying sf adventure set in the dangerous bowels of a distant planet. But like the enormous cavern system below the surface of Cassandra V, this story has hidden depths, secrets and mysteries to reveal. Highly recommended from start to finish."
— John Hornor Jacobs, award-winning author of The Sea Dreams it is the Sky

"The Luminous Dead is a gripping scifi thriller with an eerie, claustrophobic setting that held me captive until I finished it. I think part of me was left behind forever in Starling's cave. This book will drag you into its dark, twisting depths and will not let you go."
— Emily Suvada, author of This Mortal Coil

"With The Luminous Dead, Caitlin Starling gives us a confident debut, an imaginative future thriller that barely lets up the tension and claustrophobia. Mistrust and paranoia abound all the way to the end, and Gyre feels every moment of it, widening along with the events, as the poet said."
— Tade Thompson, author of the Wormwood Trilogy and The Murders of Molly Southbourne

"A startling debut. I was truly spooked."
— Kelly Robson, Nebula Award-winning author

"Starling's debut is a chilling study in mutual guilt and dependence that will have readers racing toward the conclusion."
— Booklist

"With sharp prose and mounting dread, Starling will drag you into a dark descent. Get ready for chills."
— Sean Grigsby, author of Smoke Eaters and Daughters of Forgotten Light

"Caitlin Starling's The Luminous Dead is a gripping, claustrophobic thriller propelled by complex relationships between women. I couldn't put it down."
— Ada Hoffmann, author of The Outside

"A masterful, nail-biting thriller from an extraordinary talent. Meticulously researched, expertly paced, with yearning, self-destructive heroines whose incredible physical and emotional journies will leave you breathless." 
— Kameron Hurley, author of The Light Brigade

"A torturous book. Horrifying in small, cutting, personal ways, and in the more classic scare-in-a-dark-room way. But there's an iron rod of panicked strength that runs through the middle of it."
— NPR.org

"A genuinely impressive debut, suspenseful and horrific in turns."
— Sci Fi Magazine

"I'm still in disbelief that this book is a debut novel."
— The Reading Chemist