Early: An Intimate History of Premature Birth and What It Teaches Us About Being Human (Hardcover)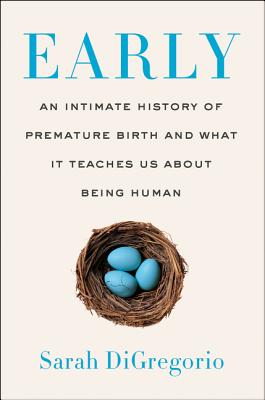 $28.99
This item is out of stock with our warehouse. Some recently published books may be in stock @ Room. Email to check.
Description
---
"Sarah DiGregorio delves deeply into the fraught world of premature birth. With bracing honesty, she recounts her own story and the stories of other women who draw on the power of love and meld it with cutting-edge science, as they struggle to save the lives of their newborns. This book opens our minds and hearts to a world that is rarely seen with such clarity."—Jerome Groopman, MD, Recanati Professor at Harvard Medical School and author of The Anatomy of Hope
Inspired by the author's harrowing experience giving birth to her premature daughter, a compelling and empathetic work that combines memoir with rigorous reporting to tell the story of neonatology—and to meditate on the questions raised by premature birth.

The heart of many hospitals is the Neonatal Intensive Care Unit (NICU). It is a place where humanity, ethics, and science collide in dramatic and deeply personal ways as parents, doctors, and nurses grapple with sometimes unanswerable questions: When does life begin? When and how should life end? And what does it mean to be human?
Nearly twenty years ago, Dr. John D. Lantos wrote The Lazarus Case, a seminal work on ethical dilemmas in neonatology. He described the NICU as "a strong, strange, powerful place." The NICU is a place made of stories—the stories of mothers and babies who spend days, weeks, and even months waiting to go home, and the dedicated clinicians who care for these tiny, developing humans. The book explores the evolution of neonatology and its breakthroughs—how modern medicine can be successful at saving infants at five and a half months gestation who weigh less than a pound, when only a few decades ago, there were essentially no treatments for premature babies.
For the first time, Sarah DiGregorio tells the complete story of this science—and the many people it has touched. Weaving her own story, those of other parents, and NICU clinicians with deeply researched reporting, Early delves deep into the history and future of neonatology, one of the most boundary pushing medical disciplines: how it came to be, how it is evolving, and the political, cultural, and ethical issues that continue to arise in the face of dramatic scientific developments.
Eye-opening and vital, Early uses premature birth as a lens to view our own humanity, and the humanity of those around us.
About the Author
---
Sarah DiGregorio is a freelance journalist who has written for various publications, including the New York Times, the Wall Street Journal, the Village Voice, Food & Wine, BuzzFeed, Parade, and Saveur. Her work has been included in the Best American Food Writing yearly anthologies three times. She lives in Brooklyn, New York, with her daughter and her husband.
Praise For…
---
"Sarah DiGregorio delves deeply into the fraught world of premature birth. With bracing honesty, she recounts her own story and the stories of other women who draw on the power of love and meld it with cutting-edge science as they struggle to save the life of their newborn. This book opens our minds and hearts to a world that is rarely seen with such clarity." — Jerome Groopman, MD, Recanati Professor, Harvard Medical School, author of The Anatomy of Hope
"A must read for anyone interested in the science—or the experience—of preterm birth." — Emily Oster, author of the New York Times bestseller Cribsheet and Expecting Better
"The heart of DiGregorio's illuminating book isn't just about her family's journey; it's an expansive examination of the history and ethics of neonatology." — New York Times Book Review
"Fascinating. DiGregorio has strung together a riveting history of the preemie, from carnival incubator shows (really!) to the possible future of baby ziplocks. Throughout she has tenderly woven her personal experience with her tiny daughter in the NICU, a space where machine and mother uneasily coparent. At times shocking, heartbreaking, and inspiring, the tension between technology and humanity is evident throughout, and DiGregorio does not shy away from it." — Jennifer Block, author of Everything Below the Waist
"A sweeping cultural history, a consistently surprising and insightful examination on the porous line between life and death, and a graceful and hauntingly clear-eyed memoir all in one. Feels destined to live on shelves for a long time." — Jayson Greene, author of Once More We Saw Stars
"Every health professional who cares for babies should read this book. A meticulously researched and stirring tribute to the life-affirming work that goes on in NICUs every day." — Dr. John D. Lantos, pediatric bioethicist and author of Neonatal Bioethics: The Moral Challenges of Medical Innovation
"Sarah DiGregorio's rigorous, gimlet-eyed reporting on premature birth is surpassed only by her empathy and affection for the people whose lives comprise its history and give it meaning. How can we better care for the most vulnerable people in our communities who, as DiGregorio makes clear, include not only the tiniest babies but the adults who come before them? . . . She triumphs at making issues typically confined to the NICU relevant to every human being." — Angela Garbes, author of Like a Mother
"DiGregorio makes clear that the problems facing preterm babies can be enormous, that consequences may not be apparent for years, and that the appropriateness of treatment can be debated. . . . Clear reporting that wisely urges careful decision-making by clinicians and parents alike." — Kirkus Reviews
"Compassionate... Sensitively approaching the myriad practical and ethical challenges involved in caring for such fragile babies, DiGregorio gives vivid, individualized portraits of struggling parents, premature infants who developed into thriving children, and the specialists dedicated to helping them... DiGregorio delivers a candid yet gentle work with appeal for prospective parents and anyone interested in 'what premature birth [can] teach us about being human.'" — Publishers Weekly