How Soccer Explains the World: An Unlikely Theory of Globalization (Paperback)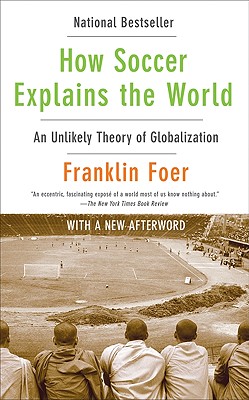 $15.99

In stock with our warehouse--usually ships within 1-7 days. May or may not be in stock at Room.
Description
---
"An eccentric, fascinating exposé of a world most of us know nothing about." — The New York Times Book Review
"Foer's skills as a narrator are enviable. His characterizations… are comparable to those in Norman Mailer's journalism." — The Boston Globe
A groundbreaking work—named one of the five most influential sports books of the decade by Sports Illustrated—How Soccer Explains the World is a unique and brilliantly illuminating look at soccer, the world's most popular sport, as a lens through which to view the pressing issues of our age, from the clash of civilizations to the global economy. From Brazil to Bosnia, and Italy to Iran, this is an eye-opening chronicle of how a beautiful sport and its fanatical followers can highlight the fault lines of a society, whether it's terrorism, poverty, anti-Semitism, or radical Islam—issues that now have an impact on all of us. Filled with blazing intelligence, colorful characters, wry humor, and an equal passion for soccer and humanity, How Soccer Explains the World is an utterly original book that makes sense of our troubled times.
About the Author
---
Franklin Foer is the editor of The New Republic. He lives in Washington, D.C.
Praise For…
---
"Important. . . . Foer's book sets one thinking about the great American isolation. If we want to understand the world, we should probably try to understand soccer." — Boston Globe
"An insightful, entertaining, brainiac sports road trip." — Stefan Fatsis, The Wall Street Journal
"Sensational. . . . The smartest sports book of the summer." — ESPN.com
"What a brilliant idea! Franklin Foer provides a personal yet richly-reported look at how approaches to soccer tell us so much about different societies and their cultural attitudes. He even uses the game to dissect the ideological and class divides in America. The result is both amusing and revealing -- and delightfully provocative." — Walter Isaacson, author of Benjamin Franklin
"Franklin Foer's book shows that soccer is much more than just kicking the ball around -- it is about the way soccer exists in people's lives. Brilliantly written and well thought out, it is required reading not just for soccer lovers, but anyone who wants to understand what is going on in the world today." — Aleksandar Hemon, author of Nowhere Man and The Question of Bruno
"A wildly entertaining romp through the world with a smart, nervy guide. Tucked into this amazing snapshot of unconventional wisdom is a brilliant description of the chilling interface of sports and politics and how it's used to manipulate our lives." — Robert Lipsyte, New York Times contributing columnist and author of In the Country of Illness
"Important and controversial as the subject of globalization is, it's not often much fun to read about. This book is a dazzling exception -- and no less a contribution to serious study of the issue for being a delight. It's full of lively tales, colorful characters, and humor -- all on behalf of explaining, clearly and convincingly, how the world is changing in momentous ways." — Strobe Talbott, president, The Brookings Institution
"Most people who write about globalization never leave the world of fancy hotels and conferences. Franklin Foer actually went out and did a day's work. His reporting among soccer's lumpen proletariat illuminates the dark complexities of globalization." — Robert D. Kaplan, author of Balkan Ghosts and The Ends of the Earth
"Franklin Foer has written a book that is significantly entertaining if you like soccer, and entertainingly significant if you do not." — Adam Gopnik, author of Paris to the Moon
"I've always admired Franklin Foer's smart, insightful reporting, but here he does something I couldn't have predicted: took me into a world I was completely unfamiliar with and brought it alive with wit, a sense of adventure -- and cultural and geopolitical ramifications I wouldn't otherwise have imagined." — Ron Rosenbaum, author of Explaining Hitler and The Secret Parts of Fortune
"Franklin Foer has penetrated the global game of soccer in all its forms and at the deepest level. This is a book that reveals a whole different side of the sport. Fans everywhere, take note: How Soccer Explains the World is illuminating, fun, and provocative -- and a must read." — Bruce Arena, head coach, U.S. National Soccer Team
"Step aside Tom Friedman, Sam Huntington, and Amy Chua. Franklin Foer's dark and witty tale of the soccer world reveals the meaning of globalization in all its joys and horrors." — Robert Kagan, author of Of Paradise and Power
"Lively and provocative. . . . A novel look at how the world is everywhere becoming more alike, and everywhere more different, as people seek to define themselves through soccer. . . . Unfailingly interesting." — Kirkus Reviews
"Fascinating. . . . Foer scores a game-winning goal with this analysis of the interchange between soccer and the new global economy. . . . One doesn't have to be a soccer fan to truly appreciate this absorbing book." — Publishers Weekly (starred review)
"An eccentric, fascinating exposé of a world most of us know nothing about. . . . Bristles with anecdotes that are almost impossible to believe." — New York Times Book Review
"Funny and terrifying. . . . Several chapters stand alone as surgical strikes of intelligent reporting. . . . Franklin Foer is that rare thing: a homegrown soccer pundit." — Mother Jones
"Foer picks 10 different stories, each of which is fascinating and teaches us something small but important. . . . Mr. Foer is a terrific storyteller, with sharp eyes and a charming, ironic tone." — The New York Sun
"A great new guide. It combines a diary of an obsessive with some penetrating thoughts on globalism. It's as if Nick Hornby, author of the brilliant soccer book Fever Pitch, commandeered Tom Friedman's laptop." — Slate
"Foer's formidable prose only reinforces his central premises. So, soccer might not explain it all, but it can serve as a starting point for understanding shifts in global economies, politics and religion, as we fall toward an ever-shrinking world." — The Oregonian (Portland)
"Terrific. . . . A travelogue full of important insights into both cultural change and persistence. . . . Foer's soccer odyssey lends weight to the argument that a humane world order is possible." — Washington Post Book World
"Foer is an accomplished journalist. His sketches of historical background are deftly done. His skills as a narrator are enviable. His characterizations, many of them based on interviews, are comparable to those in Norman Mailer's journalism." — Boston Globe
"Franklin Foer has mapped, delightfully, the ways in which soccer's emerging international brands and symbols clash with stubborn local tribalisms. . . . Artfully told. . . . Foer's book is horrifying, and terrific." — The Washington Monthly