Series of Unfortunate Events #1 Multi-Voice CD, A:The Bad Beginning CD Low Price (Abridged / CD-Audio)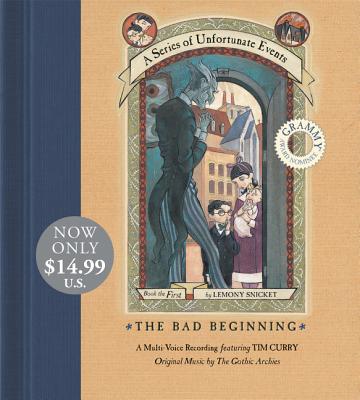 $14.95
Usually Ships in 1-5 Days
Description
---
AVOID LISTENING TO THIS NEW MULTI-VOICE RECORDING OF THE BOOK THAT STARTED IT ALL
Like a car alarm, bagpipe music, or a doorbell ringing in the middle of the night, hearing this all-new audio edition of The Bad Beginning will only upset you. This unique multi-voice recording brings the first book in Lemony Snicket's alarming A Series of Unfortunate Events to such terrible life that no one should really have to experience it. Unless you have an ear for such ghastly details as a tragic fire, a nefarious villain, itchy clothing, and cold porridge for breakfast, all narrated in chilly detail by the distinguished, and disturbed, Tim Curry with a team of talented readers, you would be better off listening to something else.
About the Author
---
Lemony Snicket had an unusual education which may or may not explain his ability to evade capture. He is the author of the 13 volumes in A Series of Unfortunate Events, several picture books including The Dark, and the books collectively titled All The Wrong Questions.
Tim Curry has created a rich array of memorable characters for both the screen and stage, most notably the role of the scientist in the Broadway and film versions of The Rocky Horror Picture Show. He's won Tony Award® nominations for his roles in My Favorite Year and The Pirates of Penzance.