Susan Troller, author of Cluck
Event date:
Sunday, November 13, 2011 - 2:00pm
A Room of One's Own is thrilled to welcome Susan Troller for an author reading and book signing on November 13th. Chicken lovers of all kinds are encouraged to attend this free event!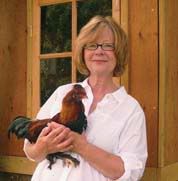 Read about Big Tiny, the rooster that made the hens swoon; Buff Orpingtons and Welsummers named for poets and writers; and scary creatures of the night that strike terror into many a feathered breast. Chapters include The Joy of Chix, Tastes Like Chicken, Wicked Roosters This Way Come, How to Hypnotize a Chicken, The Zen of Hens, and many more. For animal lovers, pet owners, and art enthusiasts who enjoy tales well told.
Susan Troller got her first pet as a birthday gift when she was eight and she never looked back. Since that first Siamese cat, she has lived with a movable feast of furred and feathered friends—currently numbering 14—that has included cats, dogs, horses, goats, steers, heifers, guinea pigs, birds, rabbits, and now chickens.
Her interest in chickens took wing when she was introduced to Consuela, the miraculous survivor of a mass gassing of laying hens at a factory farm and the star of the 2006 documentary film "Mad City Chickens: The Return of the Urban Backyard Chicken!" She got her own flock of hand-raised chicks in the spring of 2010.
Susan lives with her chickens, dogs, cats, a whole family of horses who were all born on the sixth of June, and her husband on a small farm near New Glarus, Wisconsin, where they raised three animal-loving daughters who are now grown and have their own pets. In her other life she is an award-winning newspaper reporter for the Capital Times in Madison, where she has written about the thriving local food movement and currently covers K-12 education. Here's a funny, poignant, wry look at the backyard phenomenon of raising chickens for eggs, meat or just plain pets. Cluck, contains additional stories by Jane Hamilton, Michael Perry, and Ben Logan.