Ron McCrea, author of Building Taliesin
Event date:
Sunday, March 24, 2013 - 2:00pm
Building Taliesin details the creation of Frank Lloyd Wright's Taliesin, which would be the architect's principal residence to the end of his life. Author Ron McCrea paints a vibrant picture of the building and its central characters through letters, memoirs, contemporary documents and a stunning assemblage of photographs — many of which have never before been published. Photos taken by Wright's associates show rare views of Taliesin under construction and illustrate Wright's own recollections of the first summer there and the craftsmen who worked on the site.
The book also brings to life Wright's kindred spirit, "she for whom Taliesin had first taken
form," Mamah Borthwick. Wright and Borthwick had each abandoned their families to be
together, causing a scandal that reverberated far beyond Wright's beloved Wisconsin valley.
The shocking murder and fire that took place at Taliesin in August 1914 brought this first
phase of life at Taliesin to a tragic end.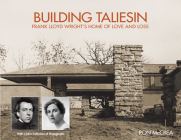 $35.00
ISBN: 9780870206061
Availability: Usually Ships in 1-5 Days
Published: Wisconsin Historical Society Press - June 12th, 2012
---