Submitted by Room on Mon, 06/23/2014 - 6:08pm
We have a busy month of savings and sales coming up in July! We are teaming up with a variety of local businesses to make downtown shopping fun and economical for Madisonians. 
Friday July 18th - Sunday July 20th is Maxwell Street Days.
State Street is closed to traffic and becomes a raucous street fair of deep discounts and cool bargains to beat the heat! We'll have deep discounts and sale books out on the stoop (and more inside in the air conditioning, of course!).
Thursday June 26th is this month's Thrifty Thursday for Room, Community Pharmacy, and other local downtown businesses! "Like" the facebook page and get updates on what sales each shop offers on the last Thursday of the month. Our Thrifty Thursday deal will actually continue into the week for the next big sale!
Dane Buy Local's Independents Week is Friday June 27- July 7th, to highlight the local Independent businesses that make our community vibrant and unique! We are kicking it off a day early on Thrifty Thursday and continuing our deals through July 7, offering: 
15% off all books on U.S. History 
All purchases over $100 will get a free copy of justicelearning.org's hip guide to the United States Constitution
Correctly answer a trivia question about U.S. History at checkout and get extra savings on your purchase!
While you're feeling good about all of these savings, consider making a gift of a book for families in need in Wisconsin. A Room of One's Own is proud to partner with Once Upon A Book Drive--we give a 10% discount on all books purchased from us to donate to the program, and we are a drop-off point if you would like to pass along your own gently used books as well. Mention the drive at the counter during checkout, or use the coupon code ONCEUPON when ordering children's and young adult books through roomofonesown.com for the book drive in order to claim this discount. Thank you for supporting local literacy!
Submitted by Room on Fri, 08/03/2012 - 8:22pm
A Room of One's Own Bookstore has been a fixture in downtown Madison, Wisconsin since 1975.
Our New Location: In late July 2012, Room moved to 315 W. Gorham St., joining forces with our friends at Avol's Bookstore, just down the street from Community Pharmacy. We are now pleased to offer new and used books, in twice the space we had at our Johnson St. location! We encourage you to bring your gently-used books in to sell.
Avol's Used Books: Avol's continues to maintain a used book buyback counter in our space. The hours for used book buying are: Noon to 6pm, Mon-Sat. We are always interested in buying good, clean used books. We generally do not buy books with underlining, highlighting, water damage or severe wear. We do not buy Romance novels, Westerns, Reader's Digest books, magazines or journals. If you have any questions or would like to talk to the used book buyer, please call 608-255-4730 and ask for Ron. You can also find Avol's on the web at www.avolsbooks.com.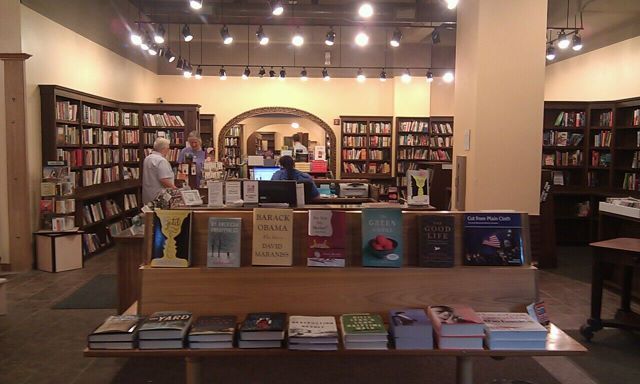 A Room of One's Own is an independent, local bookstore: Room offers a wide selection of current and classic fiction, nonfiction, periodicals, graphic novels, local interest titles, gifts, greeting cards, and t-shirts. We also have strong children's and young adult, women's studies and LGBT fiction and nonfiction sections.
Room's feminist community: We are proud to be a central part of Madison's women's community, and our roots in Madison's feminist community go deep. Our store has given us the opportunity to provide a meeting place, event forum, and safe space. We are happy to host community events. If your small book or discussion group would like to use our community room to meet, please call ahead to check availability at 608-257-7888. 
Web Orders and e-books: We are happy to be able to offer e-books and web orders for in-store pickup or mail delivery through our website! Please note that our website does not reflect our in-store stock: please call us at (608) 257-7888 to find out if we have the title (new or used) that you would like.